Government fumbling with our oil money already? (final)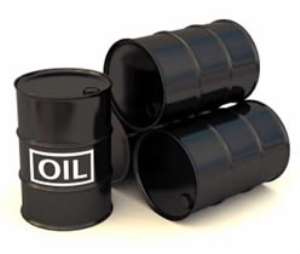 • Continued from Tuesday, April 6, 2010 In that sense, we can be reasonably assured that computing an average price for oil over 5 years is far from reckless, and provided the right calculations are performed on the historical data the emergent figure is likely to prove useful. $60 is thus a sound estimate in acknowledgment of the factors identified in the preceding.
3. In similar vein, while it is true that cost of production figures also vary, historical trends are useful in gauging their likely levels over time. The secondary information we have from the program of development of the Jubilee field approved by the Ministry of Energy, on GNPC's advice, makes no sense.
4. As a matter of urgency, the relevant authorities should publish the full assumptions underlying their production cost model. Until they do, observers like us are entitled to use for our purpose West African typical rates for FPSO costs, labour costs, insurance/short-term finance costs, transport costs, and safety/environmental costs.
A triangulation of Nigerian, Ivorian, and Equatorial Guinean cost trends (bolstered with data from the United States Energy Information Administration) should suffice.
We would maintain in those circumstances that $34 per barrel is a reasonable estimate of unit production cost. We have seen figures from industry insiders for the relevant geographies that go as high as $50.
5. Then also, there is a need for the accounting template being used for all the income analysis to be published. The accounting template determines what investment types count as an exploration, development or production cost, all of which receive different kinds of treatment when determining what the net proceeds to Ghana shall be.
For instance, the latest indication is that not only shall the builders of the FPSO operate the platform, they shall also be leasing it to the Jubilee consortium. In accounting terms, does this imply a transfer of costs from development to production category, or what?
Is Government carried interest to be treated as a dividend, and therefore levied on profit, or a direct share of output, and therefore levied on gross production prior to EBITDA, and if the latter what are the tax deductibility implications, precisely?
6. In the absence, as we have long complained, of any serious information from the relevant authorities, save for media soundbites, we shall proceed to use reasonable, elementary, accounting and analysis, and shall be fully justified for doing so.
7. There is no doubt that government's 5% royalty is applied directly to gross output. Thus government will be entitled to a little over $86 million from the $1.72 billion mentioned above before the serious math even begins. That leaves $1.64 billion.
There is now a question as to how carried interest is to be treated. Let us assume that we can apply this also directly. That gives us another $164 million to be apportioned to government share. We have $1.47 billion remaining.
We are on safe ground if we assert that government from this point on can only receive income derived as a percentage of profit, which means we must going forward accommodate development and production costs.
If we use $34 as the production cost per barrel, then we are confronted with a whopping $980 million of cost per annum. Taxable income then declines to $490 million. Now, we must account for development costs which, under basic accounting rules, should be amortised over 5 years. As total development costs have been pegged at $3.15 billion, the annual sum slated for capital depreciation equals $650 million.
8. It should be obvious to even the most casual reader that in the scenario we have portrayed above the Netherlands-registered Jubilee Field Consortium shall declare a loss of $160 million for year 1 at least, and depending how they work out "retained losses", not only shall they not pay any taxes for that year but they may actually pile up these losses over the first five years to the tune of $800 million.
Ghana shall thus receive its statutory $250 million per year over this period, but shall see this sum barely rise in phase two of development, when production is expected to ramp up to 250,000 barrels per day, due to accumulated losses.
9. What we have sought to demonstrate above is that "cost of production", as well as the threat of tax evasion due to "internal mispricing" (wherein business costs are exaggerated) are as important a determinant of government earnings as the price of oil.
Now it may well be that in the absence of an official accounting template we have committed the basic error of double counting, wherein some costs already accounted for under one category are assigned to the other, but it is for this reason that government should publish its production costs assumptions and the accounting template it has adopted. Bear in mind, dear reader, that in the scenario described above government of Ghana shall be responsible for 3.75% of the losses declared above, a not insignificant $6 million per annum, and as Government increases its participating interest as it is seeking to do the greater its share of any such losses shall be.
Range of Estimates
1. Without putting too fine a point on the matter, there is hardly any doubt that the position taken by the Dr. Tuffuor-led team that we accept the validity of wide ranges of estimates ($244 million as demonstrated above up to $1 billion based on the MOFEP model) is a dangerous one. It amounts to saying that we should not bother to plan at all, since the statistical variation of the figures being produced makes nonsense of any notion of serious financial forecasting.
2. Or, we could endeavour to use the lowest figure in any "rigorously produced" range of estimates for planning purposes as this would clearly be the prudent thing to do.
An overflow account can easily accommodate any extra revenue, but certainly not shortfalls.
Thus government should states its position on how it treats ranges of estimates. It cannot tell us that its fiscal models treat all figures on the sensitivity analysis graph equally. Which brings us to the point on rigour.
3. The role of variables in forecasting is to develop probabilities. The role of the government's fiscal manager is turn those probabilities into a model. In a system such as the one we are discussing we are concerned about "prudency".
The simple argument is that it is fine to underestimate but dangerous to overestimate. Thus forecasting for anything other than academic purposes, and in particular forecasting for fiscal purposes, should be based on the rigorously produced "minimum figure".
Furthermore, variables cannot be admitted on the whim of government analysts. Variables ought to be based on rigourous and explicit assumptions, hence our constant requests to the relevant authorities to PUBLISH THE ASSUMPTIONS
CONCLUSION
As far as transparency and accountability in the oil sector is concerned, Government of Ghana has begun on a not too good note. There has been a tendency to opt for bureaucratic substitutes to truly open discussion of the issues. So called "public forums" mean little unless government managers are prepared to engage in a full and open conversation about ALL ASPECTS of oil resource and revenue management.
We see a subtler but more dangerous trend with respect to the above concern. By going through the motions of subscribing to such mechanisms as the EITI (Extractive Industries Transparency Initiative) for the oil and gas sector, government would be able to argue that it is abiding by the tenets of good natural resource governance, when the truth is that it is complicating the very process of accountability through bureaucractic posturing.
We note that the Ghana EITI process (or GHEITI) has been in place, on candidacy basis, for the general mining regime since 2007. We are still at least 3 months away from an aggregated, *independently vetted*, publication of revenue payments and other crucial data related to the non-petroleum mining industry in Ghana, as part of the country's validation report.
We note that the EITI process as currently constituted boast of civil society participation, and we have nothing but respect for the individual members of the National Steering Committee of the EITI, we are however not sure on what basis the process is considered representative of the diversity of civil society focuses and interests in this matter.
We note further that the GHEITI validation exercise undertaken by Mr. Martin Amidu and others is not in the public domain.
Indeed, even the draft processes supposedly guiding Ghana's extension of EITI to the oil and gas sector have not been adequately publicised. This falls short of the transparency the entire process has been designed to foster.
In short, we are not convinced that government of Ghana shall be able to fulfil its obligations with respect to accountability and transparency by simply complying with the mechanics of the GHEITI, especially as presently designed.
As far as we are concerned, and we know we speak for a great many individual Ghanaians and civil society organisations, transparency and accountability can only come about through a full and unrestrained discussion with the GENERAL PUBLIC about ALL ASPECTS of the oil sector management process.
Until that happens, the course for Ghana shall be into the oil cesspool of shattered hopes and disillusion.