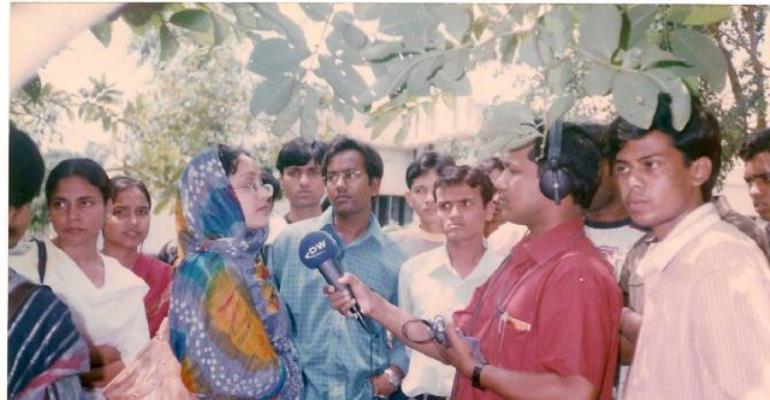 "Press freedom and RAB"
By Jahangir Alam Akash, Every day, every moment the journalists are being oppressed in Bangladesh by various ways. Sometimes they are tortured by law enforcers. On the other hand the political terrorists are persecuting journalists.
According to the daily Ittefaq (29-3-2010) on 27 March, 2010 three journalists have attacked by terrorists at Chitolmari in Bagherhat. The oppressed journalists are S.S. Sagor, general secretary of Chitolmari press club and the correspondent of daily Destiny, Salim Jahangir (daily Janmobhumi & daily Janata) and Ekramul Haque Munshi (daily Amardesh and daily Tortho). The terrorists have confined the injured journalists. They have rampaged the Grameen Enterprise shop and looted money and camera from the journalist.
A Hindu minority school teacher Basudev Majumder has insulted by the cadres of Saheb Ali Farazi. Farazi is the Vice Chairman of Chitolmari Upazilla. In this connection some reports have published. After then this attacked on press have occurred.
Now I want to express my opinion on the speech of the DG of RAB. We seem that now they would kill without justice in the sky and water? Because the government has declared that they would get Helicopter for watching terrorists from the sky. And they have also getting other facilities from the government for sky and water ways. DG of RAB has told (Source: daily Ittefaq, 29 March, 2010) that they didn't kill anybody without justice. I want to say him why RAB-5 (Major Rashid and Major Humayun) were torturing and electric shocking me? Not only that they also hung me with the ceiling and blind folded me for 15 hours (Please read the book "15 hours in total Darkness" and "Extra judicial killings and Revenge"). Though I was not a criminal? Mr. DG of RAB, Could you please tell the people what my "fault" was? (Please watch the history of my torture: http://www.youtube.com/watch?v=GnyD9GFfZsU (Press freedom and Bangladesh) http://www.youtube.com/watch?v=saG7_iOcp3I (TIDE TV-Germany report)
http://www.youtube.com/watch?v=H1G8BUvZ_mc (Unbearable time)
http://www.youtube.com/watch?v=1xzaCRYCkqs (BIHR part-1)
http://www.youtube.com/watch?v=BthGnl-WEGo (BIHR part-2)
http://www.youtube.com/watch?v=hnyyJHp3ET0 (BIHR part-3)
Mr. DG are you forgotten the brutal torture of journalist F.M. Masum (New Age)? Why the RAB torturing the journalists one after another? We demand the explanation of the cruelty on the media men. The people have deafer with your totally false speech on the RAB activity. People want to challenge you on this ground. Now it is very clear to the country people that what have doing RAB in the name of so-called 'gunfight'? RAB is a black chapter of the history of Bangladesh. They are violating the rule of law, constitution, human rights and the international declaration of human rights.
Khondoker Hasan Mahmud also said that, more than 800 RAB men have gotten punishment. But what type of punishment they have got? He didn't clear it. Those who are responsible for the brutal persecution of journalist Masum and Akash (me) are they gotten punishment? We don't know. The people of Bangladesh want to see rule of law there.
Now I want to share with the readers of USA State Department report on freedom of press and speech: The constitution provides for freedom of speech and press, but the government occasionally did not respect these rights in practice.
Although public criticism of the government was common, newspapers depended on government advertisements for a significant percentage of their revenue. As a result, newspapers practiced self-censorship on some issues.
There were hundreds of daily and weekly independent publications. Although there were significant improvements over the previous year, newspapers critical of the government experienced some government pressure. Journalists perceived to be critical of the government and those aligned with the opposition alleged harassment from unspecified wings of the security forces and members of the ruling party. In addition to one official government-owned news service, there were two private news services.
Unlike in the previous year, the military's Inter-Service Public Relations (ISPR) office and the DGFI did not directly restrict newspaper ownership or content. However, journalists reported the military cautioned them against criticizing the government or the military, especially in the aftermath of the BDR mutiny. Matiur Rahman Chowdhury, editor of Manabzamin and host of two television talk shows, stated in the English language New Age that officials told him indirectly to refrain from inviting specified guests during the BDR incident. He also said tapes for a particular talk show were taken from station several hours before the show was scheduled to be broadcast.
The host of a popular Bengali-language current affairs talk show, Point of Order, alleged she received phone calls from individuals identifying themselves as DGFI officials who warned her against promoting "antigovernment and antistate propaganda." She also said sponsors of her program had been encouraged to stop their support of her show.
The government owned one radio and one television station. The parliament passed a law mandating that the public television station, BTV, remain the country's only terrestrial broadcast channel. An estimated 60 percent of the population did not have access to private satellite channels.
There were 10 private satellite television stations and three private radio stations in operation. There were two foreign-based and licensed satellite television stations that maintained domestic news operations. Cable operators generally functioned without government interference. The government required all private stations to broadcast, without charge, selected government news programs and speeches by the prime minister.
The 24-hour all-news television station, CSB, which the government shut down in 2007, purportedly for not having a proper license, remained closed at year's end.
Attacks on journalists continued to be a problem. There was an increase in individuals affiliated with the government or ruling party harassing, arresting, or assaulting journalists. According to Odhikar and media watchdog groups, at least three journalists were killed, 84 were injured, one was arrested, 45 were assaulted, 73 were threatened, and 23 had cases filed against them during the year. According to some journalists and human rights NGOs, journalists engaged in self-censorship for fear of retribution from the government.
On January 1, following the parliamentary elections, activists of the AL's student wing, the Chhatra League, harassed and threatened with death Dhaka University correspondents of the Bengali and English publications Daily Sangbad, Janakantha, BDNews24.com, Destiny, and Janatar Chokh. The activists ransacked the reporters' rooms, destroyed their valuables, and threatened to kill them. No action was taken against the alleged vandals.
On September 1, according to Odhikar, two Chattra League activists attacked and ransacked a store owned by the Chuadanga representative of the daily Amar Desh, reportedly in retaliation for a report published in the paper criticizing an AL member of parliament (MP). The activists set fire to the store and burned copies of Amar Desh. Members of the Chattra League then ransacked the store owner's home and assaulted his wife and children. Chattra League and Jubo League members also ransacked the business of the Chuadanga representative of the daily Janakantha and the home of the local representative of the daily Prothom Alo.
On October 22, officers of RAB 10 arrested F.M. Masum, a reporter for the English-language daily New Age from his home in Jatrabari, near Dhaka. According to New Age and the Asia Human Rights Commission (AHRC), RAB members beat Masum with iron rods, wooden sticks and the blunt sides of machetes and rubbed salt into his wounds, allegedly because he had worked on several news stories on extrajudicial killings committed by the battalion and its involvement in the fight against drugs. Staff from New Age alleged Masum was targeted because he had written about violence against journalists. The home minister ordered RAB 10 to release Masum, and RAB officials announced an investigation into the matter. After the incident, RAB officials gave varying accounts of the reason for Masum's detention, including that he had been found in possession of drugs and that he was found with prostitutes. However, when Masum was released, RAB officials stated he had been arrested for not cooperating with the law enforcement agency. RAB headquarters released a statement expressing regret for the incident and transferred one of the officers involved. No further action was taken at year's end. The government took no further action in the May 2008 assaults against Daily Star correspondents Mirza Shakil and Iasinur Rahman.
There were no new developments in the case of Jahangir Alam Akash, who reportedly was tortured by authorities in November 2007. Akash ran his own blog devoted to press freedoms and human rights during the year.
There were no developments in the case of the Jai Jai Din editor who was fired in July 2008 because he published a cartoon critical of the Army Chief General Moeen Uddin Ahmed.
The trial court dismissed charges against accused teachers and students in the 2007 attack on journalists at Dhaka University. Tasneem Khalil, former Daily Star journalist and researcher for Human Rights Watch, continued to live in exile in Sweden following his 2007 interrogation and torture by joint forces.
Unlike in previous years, the government did not subject foreign publications and films to stringent reviews and censorship. A government-managed film censor board reviewed local and foreign films and had the authority to censor or ban films on the grounds of state security, law and order, religious sentiment, obscenity, foreign relations, defamation, or plagiarism, but this was less strict than in the past. In practice video rental libraries and DVD shops stocked a wide variety of films, and government efforts to enforce censorship on rentals were sporadic and ineffective.
Unlike in the previous year, the government only rarely exercised censorship in cases of immodest or obscene photographs, perceived misrepresentation or defamation of Islam, or objectionable comments regarding national leaders.
There were no developments regarding the 2007 decision to ban Alpin, the satirical weekly magazine of the newspaper Prothom Alo, due to alleged blasphemy against Islam.
Unlike in previous years, the government did not use defamation charges to curb freedom of speech.
Dear readers please read the inhumanity of RAB which report has published by USA state department: Torture and Other Cruel, Inhuman, or Degrading Treatment or Punishment
Although the constitution prohibits torture and cruel, inhuman, or degrading punishment, security forces including the RAB, military, and police frequently employed severe physical and psychological abuse during arrests and interrogations. According to figures provided by human rights organizations, the use of such techniques dropped in 2008 but increased during the year. Abuse consisted of threats, beatings, and the use of electric shock. According to human rights organizations, security forces tortured at least 68 persons. The government rarely charged, convicted, or punished those responsible, and a climate of impunity allowed such abuses by the RAB, police, and military to continue.
On June 4, according to Odhikar, Kahalu police in Bogra arrested and tortured the president of the student wing of the BNP, Morshed Habib Bhuiyan Jewel, in Netrokona district. Jewel alleged that several times while in custody at the Netrokona Model Police Station three to four police officers blindfolded him, suspended him from the ceiling with handcuffs, and beat him with sticks from the waist down. According to Jewel, police also poured hot water into his nose and mouth. Netrokona police claimed Jewel was a suspect in a murder case and that they were interrogating him. Witnesses and the victim claimed police arrested him due to his political affiliation. Jewel remained in jail at year's end.
There were no developments in the 2007 torture cases of Shahidul Islam, Mohammad Jamal Uddin, and Mohammad Kajol.
According to human rights organizations, there were at least three recorded incidents of rape and sexual abuse by law enforcement personnel.
For example, on February 28, according to Odhikar, four police constables gang-raped a member of an ethnic minority group in the Chittagong metropolitan area.
There were no new developments in the July 2008 rape of a 14-year-old girl in Sonargaon, Narayanganj, allegedly by RAB officer Abdul Gaffur. Gaffur was under arrest and awaiting trial at year's end. There was no further investigation into the July 2008 rape of a young girl at Kamlapur Dhaka, allegedly by police subinspector Rezaul Karim.
Mr DG of RAB, please now tell your speech to the nation. Remember you are the servant of the state. So don't tell a lie. Don't further violate the human rights. ...END...
Jahangir Alam Akash
Editor
The Human Rights Today
[email protected]
http://youtube.com/user/jaakashbd
http://jaakash.wordpress.com/