Absolute lonely life as an exile!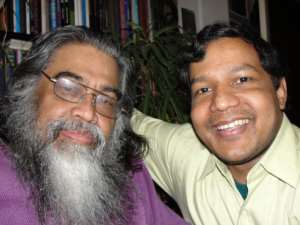 By Jahangir Alam Akash, Abdullah al-Harun has a nice mind and personality. This politically conscious person is now in his last stage of life. He comes from a respectable family of Jamalpur in Bangladesh. He was a lecturer of English and some times Principal of a degree college also. After the liberation of Bangladesh, he wanted to serve the newly-born country. He has joined in the administration as a Deputy Magistrate. But he was compelled to leave his country on political grounds. It was in 1977. He came to Germany, one of the prosperous countries of Europe. Now it is more than three decades. After crossing many ups and downs of life, he is now very much alone. He has presently an absolute lonely life.
He is very much fond of music and as well of nature. As a member of German Hospice, he gives company to the last journeys of the dying people. Through this, he has established a bright example of human-service. Now he is totally involved in literature. Music-literature, nature and human-love, from these four aspects, he finds his own pleasure. He forgets the pains and sorrows of his extreme loneliness and to be neglected! He sees the new way of life in the Tagore-songs. But he is also grieved on the distress and adversities of his motherland. He has real affection and patriotism in the heart for his dear motherland. This exile and literature-lover man thinks is more than sure, once Bangladesh will get its positive turn!
I have also left my country as a victim of political-miscreants-clique and state-barbarous-persecution. After I have reached Germany, one day I had a sudden call from USA. The exile-writer Zahid Hossain lives in Florida. He gave me the address and Tel. No. of Mr. Abdullah al-Harun. I called him. So we started a very intimate relation. Now he is the nearest Bengali for me in Germany. He loves me like his son.
I had a completed manuscript in Bengali, 'Struggle for Peace'. He took the hard task to translate into Bengali and successfully finished it also. I hope, on the next Independence Day (26 March), it will be published. I live in Frankfurt. On translation-matters, I had gone to Neu-Isenburg (near) Frankfurt where Mr. al-Harun lives. It is a very nice city in Germany.
The depressed pain and cry of the heart for the motherland, it is not seen outwardly. A man is difficult to be identified through his colour, dress or talks. His work is his real identity. Creativity, productivity, love, affection and humanity make some one great. How much people can write or talk about his or her own faults and mistakes without any hesitation? But Abdullah al-Harun can do this. Such an outspoken person is very rare.
He is now totally busy to write on his three decade's experience in Europe. Already, three of his books have been published from Bangladesh. Readers have liked all.
More than half a dozen manuscripts are waiting to be published. At the same time, he is also translating. He is working on Bengali-English, English-Bengali and German-Bengali, three types of translations.
Believer on fate (not in the light of religion), this lonely and living-abroad-Bengali, has a small room. Few years back, he has been separated from his German-life-partner, Margret. After he left his country, his family there was also broken. He is the father of two Bengali-daughters. He is now 65. He passes his time listening to Tagore-songs and looking after the plants in his room. Most of the time, he writes.
The real responsible for his present exile-lonely life is personal and familiar ill-politics of our country. But he does not complain against anybody or regrets. He has only a vast and endless love for his country. He believes, 'there is no substitute for the motherland.' Bangladesh is the best country of the world.
This writer also takes the equal share of his opinion. We wish his long life and good health.
Jahangir Alam Akash
Editor of the Human Rights Today
http://jaakash.wordpress.com/
http://youtube.com/user/jaakashbd
[email protected]