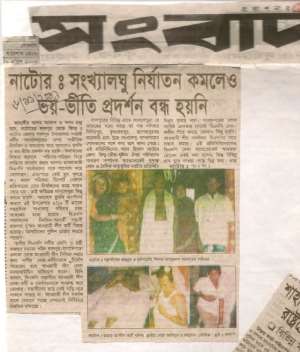 By Jahangir Alam Akash, Honorable Prime Minister and daughter of Bangabondhu Sheikh Hasina, please have look your eyes to minority community. We ask you as a citizen of Bangladesh you have don't seen anything what happening in Bangladesh? But, why, every day the newspapers have been published much news about minority torture. You have many hands as a Prime Minister, so why don't take action against minority perpetrators? Still have much time with your hands. So, please safe our minority peoples and their wealth.
Properties belonging to Minorities at Sherpur District forcefully occupied by Juba League Leader on last Saturday, shops demolished; women injured (The daily Sangbad dated 10 August, 2009)
A group of hoodlums with the leadership of Hafizur Rahman Hafiz andhis elder brother Azizur Rahman Aziz – Cultural Secretary of Juba League (Youth Organisation of Awami League) Nalitabari Upazila underSherpur district on last Saturday morning forcefully occupied seven decimals of lands belonging to a Hindu owner- Surjya Kanta Debnath. In this connection allegations received from the victim's family that two shops were demolished and their daughter Ms.Lipi Debnath was physically assaulted during operation.
But Juba League Leader denied the allegations of forceful occupation of lands, but he admitted that the lands purchased by his father and uncle were recovered. It is also alleged that since long there was a dispute between Surjya Kanta and Hafizur Rahman & Brothers with regard to seven decimals of lands situated at Garkanda Saha Para within Nalitabari Upazila. Surjya Kanta possessed the lands since long. But before forceful occupation Hafizur and Azizur were putting constant pressure to Hindu occupant to give up the lands.
But Surjya Kanta claimed that the seven decimals of lands were purchased from his maternal aunt- Ms.Khuki Bala and as such he is the real owner of the properties. And the claim of Hafizur is baseless and illegal. Advocate Sudhanshu Kumar Kaloar informed that a group of hoodlums armed with deadly weapon attacked the house of Surjya Kanta and demolished two shops belonging to Surja Kanta and assaulted Ms.Lipi Debnath and occupied the lands forcefully.
It is also learnt that this Juba League leader –Hafizur Rahman is the accused of charge sheeted case of murder of Yousuf and Takan who are also President and Secretary of Nalitabari Chatra League respectively killed by him on 25th October, 1999. This case has been stayed by order of the High Court Division. (Please see more news about minority repression in Bangladesh: http://www.humanrightstoday.info/?p=926).
Twenty Minority families are on run because of continuous kidnapping of women/children and forceful collection of zizia tax: at Sonagazi-Feni District. (The Daily Sangbad dated 9th August, 2009) More than twenty minority families located at village –Kazir Hat and Keramatia of Sonagazi Upazila of Feni district of Bangladesh are absconding because of continuous threat and atrocities by local Muslim perpetrators. They left their homestead due to intended attack on them at any time. It is learnt that some perpetrators namely Jafar, Seraj, Younus, Saiful, Ripon, Sabuj, Selim, Nasir and more 20-22 miscreants were regularly collecting illegal money from 20 to 22 Hindu families. If they refuse to pay money to miscreants then repression and threat starts. It is also confirmed that the miscreants had already realized Taka 45,000/- from Netai Das of village Keramatia. They also kidnapped a minority school girl of Class VIII of Mangal Kandi High School as those Hindu families refused to pay tax. Later on the victim girl was recovered on payment of Taka 15,000/-. They also kidnapped a daughter of Balaram Das at the same village and tried to rape her without her consent, later on victim daughter was recovered on payments of Taka 25,000/-. They also attacked many times on the house of Raju Das and broken utensils and tried to abduct women for illegal purpose. Younus –a noted criminal declared openly that he would marry a Hindu girl of Kali Bari who was reading Class VIII in Mongal Kandi High School. No remedial measures were taken by the local administration and police for their safety and security and as such most of minority victims of the locality took shelter at the houses of their relatives leaving behind their ancestral landed properties.
Day by day minority oppression is going to alarming. But, our government duties have not functions for the safety of minorities. Why they are not to do something to stop minority torture we don't know? But, we have been seeing that most of the perpetrators with linked with ruling party. Peoples are thinking that, present government may be showing 'Chamok' also minority's issues. That we have seen in Cabinet and central committee of Bangladersh Awami League. We want to say clearly that, peoples are not wanted to see 'Chamok', but they want to see peace and happiness.
Jahangir Alam Akash
Editor & Publisher
The Human Rights Today
www.humanrightstoday.info
Bangladesh.