29 journalists-writer killed in Bangladesh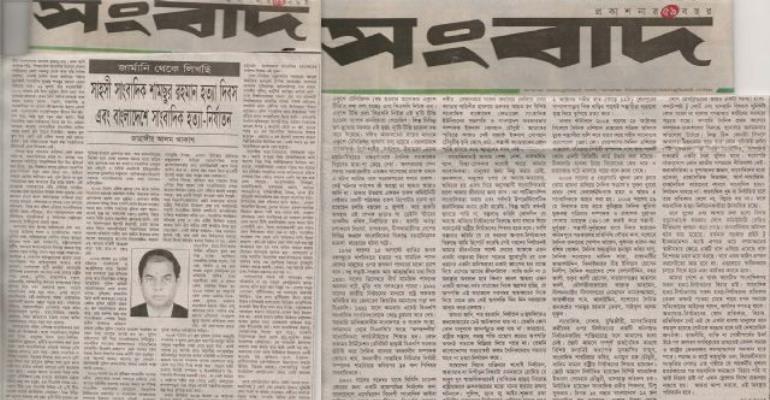 By Jahangir Alam Akash, Journalists killings and torture is another common practice in Bangladesh. Another journalist named Abdul Hannan, 30, was killed by shot dead at Demra in Dhaka. Source: BDNews24.com, 2nd October, 2009. He was worked with the daily Rupali. Though, this newspaper is closed. With this murder total 29th journalist and writer were killed in last 16 years in Bangladesh.
Press freedom is another golden dear in Bangladesh. Journalist's killings and repression is a common phenomenon in here. The latest Patuakhali incident apart, harassment either in the form of physical torture or filing false cases is on the rise in recent days across the country. At least 130 journalists felt prey to various types of harassments in the country since January.
Two journalists were killed, 46 injured, 11 assaulted, 13 attacked, one abducted, 43 threatened and three sued in past eight months till August. Unidentified terrorists at Mirer Bazar in Gazipur killed the executive editor of 'Samprotik Somoy' MM Ahsan Bari on August 26, this year. In the same year on 3rd July was killed a young community journalist Rana at Uttara in capital city of Dhaka. With these a total of 28 journalists and writer were killed in last 16 years in the country.
In 2007, journalist Tasneem Khalil, who wrote an article criticizing the government, was taken by Army members to the facilities of the Directorate General of Forces Intelligence, Bangladesh's intelligence agency, and was brutally beaten. Now he has been exiled by the Bangladeshi government and lives in Sweden. I (Jahangir Alam Akash) was also tortured with electric shocked by army (RAB) and they also hung me with the ceiling for 15 hours with blind folded and with a black mask. Cartoonist Arifur Rahman arrested and sent to the jail for made a cartoon. Though, he was freed from jail later and he was freed from the case by the court ordered.
In the regime of BNP-Jammat government journalist Saleem Samad, writer-journalist Shahriar Kabir, professor of Dhaka University and famous writer Muntasir Mamun also brutally tortured and detained illegally.
On April 13 of 2009, Gofforgaon upazilla under Mymensing district journalist Biblop was tortured by the supporters of ruling party lawmakers. In last 16 years almost 28 journalists and one writer were murdered in Bangladesh including Manik Saha, Deponkar Chakraborty, Goutam Das, Humayun Kabir Balu, Shamsur Rahman Cable, Harun-ur-Rashid Khokon, Saiful Alam Mukul, and Sheikh Belaluddin.
But yet real investigation and trial has not end. Journalist's community and the relatives of killed journalists are waiting for justice. In last 38 years since independence hundreds journalists brutal tortured including Iqbal Sobhan Chowdhury, Atiquallah Khan Masud, Alhaj Zahirul Haque, Probir Shikder, Tipu Sultan.
Watch these:
http://www.youtube.com/watch?v=cHqyDmeLpvc(part-1)
http://www.youtube.com/watch?v=p9P1mZ7zKww (part-2)
A journalist from Chuadanga of daily Amar Desh Ariful Islam is still in jail with a politically motivated case filed by government supporters. In same district another journalist Shah Alam of Prothom-Alo is flew from his home place after he was attempting to kill by the ruling party men. In Patuakhali some journalists are feared and faces with the fabricated charged after publishing reports against the local member of parliament of ruling party.
The killed journalists and writer are 1) Manik Saha (Khulna), 15 January, 2004, 2) Humayun Kabir Balu(Khulna), 27 June, 2005, 3) Shamsur Rahman Cable (Jessore), 16 July, 2000, 4) Harun-ur-Rashid Khokon (Khulna), April, 2003, 5) Saiful Alam Mukul (Jessore), 30 August, 1998, 6) Dipankar Chakrabarty (Bogura), 20 October, 2004, 7) Goutam Das (Faridpur), Sheikh Belaluddin (Khulna), 2005, 9) S.M. Alauddin (Satkhira), 19 June, 1996, 10) Golam Mazed (Jessore), 11) Mir Ilias Hossen Dileep (Jhenidha), 15 January, 2000, 12) Shukur Ali alias Shukur Hossen (Dumuria-Khulna), 5 July, 2002, 13) Nahar Ali (Dumuria-Khulna), 18 April, 2001, 14) Ahsan Ali (Rupgonj-Narayangonj), 20 July, 2001, 15) Kazi Md. Kamruzzaman (Nilfhamari),1996, 16) Syed Faruk Ahamed (Shrimongol-Moulobhi Bazar), May, 2002, 17) Bazlur Rahman (Chuadanga), 18) Kamal Hossen (Khagrachari), 21 August, 2004, 19) Anwar Apolo, 20) Abdul Latif Nabil, 21) Zamaluddin (Rangamati), 5 March, 2007, 22) Nurul Islam Rana (Uttara-Dhaka), 3 July, 2009, 23) M.M.Ahsan Bari (Gagipur-Dhaka), 26 August, 2009, 24) popular writer Dr. Humayun Azad (Dhaka University), 27 February, 2004, 25) Sarwarul Alam Noman (Mymensing), 1995, 26) Faruk Hossen (Jessore), 27) Abdul Gaffar Chowdhury (Jessore), 1994, 28) Rezaul Karim Reza and 29) Abdul Hannan(Demra, Dhaka).
In Bangladesh, justice and press freedom is a golden dear. Those who are involves in corruptions they always controlled by the governments. Presents trends of media are that, black money holders are coming in the ownership of media house. So, journalists are firstly, self censored for their owners. Another media controlled key is advertisement of government.
That is why; media is not playing good role for the peoples. For media freedom, another problem is that in Bangladesh has no definition about contempt to court and defamation. So, always, media has fearing regarding these. Which content will go to contempt to court or defamation for publishing? Media peoples have not known this. Only for this recently famous national daily the Prothom Alo has charged with contempt to court.
There have no national broadcasting rule. Though, we got recently right to information act and community radio rule. Now, we are waiting for see what would come better for media freedom of these two rules. On the other hand, many law including official secrecy act which are big barrier for press freedom.
Journalist's communities in Bangladesh are waiting for justice of their killed and tortured colleagues. I think, in Bangladesh if society has not changed as qualitative then press freedom is so far from practically. In practice, has no rule of law, good governance in Bangladesh. Whole nation politically, socially divided by two major groups. Journalist's community has also divided by two groups and also they have lack of professionalism.
Though, Freedom of the press should be granted in Bangladesh's constitution; it is granted in Art. 39 (b), but it is not binding upon the government. Therefore, we should fight to establish the rule of the constitution. The judiciary should be independent in practice, and all kinds of killings by the government machinery should be stopped.
Previous report about press freedom in Bangladesh link is: http://www.humanrightstoday.info/?p=1228
Jahangir Alam Akash
Editor & Publisher
The Human Rights Today
www.humanrightstoday.info
Bangladesh.