Housing Delivery - Blue Rose To Play A Role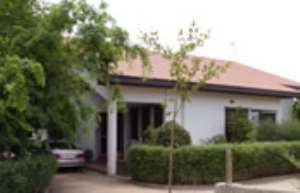 One of the most problematic issues confronting many Ghanaians is how to obtain a decent house at a decent place at an affordable price. Housing has, therefore, been on the agenda for most Ghanaians.
The rate of demand for decent houses is far behind that of supply. On average, the country should be able to provide between 150,000 and 200,000 houses a year, if the country is to catch up with the high rate of demand.
Over the years, estate developers have managed to turn out more houses to meet the high demand, yet there is always a deficit in the housing delivery system, due to a number of facts which include land acquisition, types of buildings high cost of building materials and a lack of a clear policy on housing delivery in the country.
Construction finance is not easily available to estate developers. The mortgage industry is not equally well developed, thus adding to the woes of the first time house owner. The level of salaries that most workers take home does not make it easy for them to qualify for mortgages.
To close the deficit gap in the housing delivery, Blue Rose Construction Ltd, an estate construction company, is rolling out hundreds of affordable houses for Ghanaians at Kasoa in the Central Region.
Since its inception in the estate industry three years ago, the company has been able to construct over 600 units of detached and semi-detached two-bedroom houses and three-bedrooms walled houses.
The well-demarcated vast stretching estates, located at various places within Kasoa and its environs, are linked up with the various utility providers with spaces for facilities such as markets, churches, playing grounds, supermarkets, schools, libraries, hospitals, hotels, among others.
The various sites have been given names such as Blue Rose City, which is located at Bundumburam, Blue Gate, Blue Top, Blue City, Little Blue and Blue Ridge Estates.
At the Blue City Estates, where almost all the houses have been occupied, the company is constructing an ultra-modern sports centre to house a gym, long tennis court and a restaurant.
At the Blue Rose City at Budumburam, which is the company's latest site, only semi-detached two-bedroom houses are being constructed, and they are designed to meet the pockets of the average worker.
The two and the three-bedroom housing units, according to the Chief Executive Officer (CEO) of Blue Rose Construction, Mr Ebo Acquah, was the company's contribution towards solving the acute housing problem in the country.
He said the company had acquired a vast plot of land and would continue to put up as many houses as possible to meet the housing demands of the Ghanaian worker.
Mr Acquah explained that the company took into consideration the ability of the average working population as well as the sophisticated class, adding, "Our houses meet all class of people."
He said the current landlord-tenant agreement could not be described as the best, considering the fact that tenants were made to pay an advance, ranging between GH¢4,800 and GH¢8,400 for only two years.
"By the time the tenant uses the place for eight years, he might have paid over GH¢20,000, and this, with a little top-up, is enough to earn him a decent two-bedroom accommodation," he explained.
Mr Acquah further explained that the problem was that most Ghanaians were not aware of the numerous mortgage facilities or were very ignorant as to where to go.
He said another problem was that most people were being cheated by landlords who sold plots of land to multiple prospective land owners, which often resulted in protracted land litigation.
"These are the unfortunate situations Blue Rose Constructions Ltd has come to salvage. We want to give people their peace of mind and their money's worth.
We are prepared to enter into negotiations with individuals and institutions to enable them to acquire our houses," he told the Daily Graphic after a tour of the various sites.
According to him, the company made provision for potential landlords to pay in instalments up to about 70 per cent of the total amount, before moving in and to pay the remaining in instalments.
He said depending on the age of the applicant, "The person can pay in instalments for 15 to 20 years to own a two or three-bedroom house from any financial institution with mortgage facilities."
Touching on why he entered into the housing business, Mr Acquah explained that he was touched by the high demand for decent housing by a large number of workers and other Ghanaians living outside the country, but needed to own houses in the country.
"Though it was not my original plan to enter into the estates business, I just decided to take it up to help friends and other people who genuinely need assistance in acquiring decent houses devoid of litigation," he explained.
Mr Acquah believes that every Ghanaian deserves to own a house, live in a decent house free of litigation, especially during retirement.
"It is sad to work hard and upon retirement, you still go hiring rooms from landlords who will continue to enslave you with their demands for advance payment.
After a very active hardworking life, you need a stress-free life, and that is why Blue Rose entered the estates industry," he stressed.
Author : Severious Kale Dery