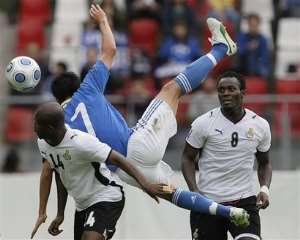 A group of ardent football enthusiasts and fans of Ghana's Black Stars in Kumasi were discussing why the national team lost to Japan in a friendly match played at Utrecht,Holland today, 09/09/09 and one of them blamed it on the two men of God in Kumasi who are feuding. He explained that the two pastors are very powerful spiritually and that their intensive prayers have been supportive for Ghana winning most of their matches, so in their feuding state, they had left Ghana's team vulnerable without spending time praying for the team, a case indicating that when two elephants fight, the grass sometimes suffers.
Whether this discussion was just about some friends sharing jokes and trying to find excuses for Ghana's defeat, it brings out certain elements associated with human relationships, peaceful co-existence, tolerance,unity in diversity, sports and superstition,responsibility and accountability that we need to analyse thoroughly and how we can learn from this experience.
Since Ghana's loss has come at a time that we are posting the concluding part of our last article on the two prominent christian ministers quarreling, we want to take advantage to discuss how sports affects and relate to our social structure and our everyday life.
Unexamined life is not worth living, the wise say, so it is very important for us to use this opportunity to analyse what went wrong in our defeat to Japan and how it can be compared to the two pastors feuding experience, what lessons can be learnt and how we can implement them to help our dear nation's cummulative development and progress.
The lost by Ghana can be attributable to human as well as technical factors. The questions on the lips of many fans is what went wrong? Were the Stars rushed into this game? Were they adequately prepared? Or was it a strategy by the coach and the technical team to drive home to the players that the World Cup 2010 is not going to be easy? Well, whatever the reasons might be, the important lesson for us all is about how to do self-evaluation and to learn from one's mistakes.
The statement from one of the people brings the issue of superstition in Sports, all over the world, contestants and players in competitions have been seen openly displaying elements suggesting that they believe in external influence apart from their own personal efforts and hard work. Especially in football games, many players in celebrating goals scored have been seen doing the sign of the cross. In most African countries, many stories abound in some nations where a whole team have refused to use the main gates to the stadia because it was suspected that the opponents has used some form of "voodoo",Juju,obeah or black power in an attempt to spiritually influence the competion. Whether it works or not, is not the subject of this article but the mention of the no prayers role of the pastors and their feuding experience challenges us to make some sort of analysis
First, the match today between Ghana and Japan was a friendly one. Both Japan and Ghana are the firsts from their respective sub region to qualify for the impending World Cup tournament scheduled to take place in South Africa in 2010. Thus they all have similar mission at the moment, how to prepare adequately for the tournament. The game though was a friendly game, promotes healthy accomodating competition. Similarly, our two feuding pastors from Kumasi are also serving one almighty God and have the same goals but how to get there is what is a little bit different. ( Please note that their names are again being withheld as Classified since the case is still under investigation-If you are a Diasporian Ghanaian and still wants to know of the names, check with your friends or relatives who live in Kumasi to fill you with details).

The discussion of competition raises many important, stimulating issues. Competition is an integral element of human development, relations and life. It takes place at human level,community, regional or acrosss national boundaries. At whatever level that competition takes place, it helps us to evaluate oneself. Though sometimes during competition pressure and stress often co-exist, it teaches us about how to work together in a community, it is also our ability to contain these pressures that shows our mature we are and how we can be tolerant of opposing views, ideas, creative energies and progress without neccesarily feeling jealous.
We will like to take this opportunity to seriously advice the two feuding pastors in Kumasi to bury their differences, get third party intervention for amicable resolution to the problem and to continue to do their great evangelistic works and the saving of the lost.
We will also like to appeal to these two prominent ministers of God to use their influence to lobby the government to establish standards and mechanisms in place for radio and independent pastors to follow so that the fakes among them will be weeded out.
We also believe that Ghana needs peace in this post-general elections period. We all need to accept the fact that Ghana belongs to all of us, in unity we can succeed, politicising everything and being intolerant of opposing views does not help democracy. Long Live Ghana. Long Live Ghana Black Stars.