It Is All Over, What Next?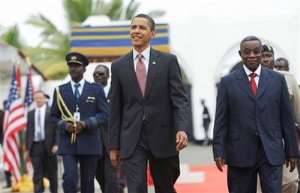 Obama has come and gone. He has told us why he came. He has commended the progress we have made in good governance and promotion of the welfare of the people.
He has reminded us that the strength of our democracy can help advance human rights and larger freedom for people everywhere, especially in Africa.
He has suggested that other African countries can follow Ghana's example with advantage to themselves and the world community.
He did not come to disperse largesse or aid. He told us that Africa is a fundamental part of our interconnected world and therefore should be partners with America and the West to create the future we want for our children.
That partnership he maintained should be grounded in mutual responsibility and mutual respect. We should therefore abandon the aid mentality and settle down to plan and work for our future.
Meanwhile we should review the visit and assess how far it enhanced the reputation of the country.
Even before the visit some of the foreign media were surprised at aspects of our preparations.
Eyebrows were raised at the news that 10,000 police men and women would be deployed for the visit. I have had occasion to comment on our idea of security which is sometimes strange, amusing, or annoying.
Perhaps it was not security considerations but bad planning which led to the unnecessary traffic jam during the 24 hour visit.
Many were kept in traffic hold ups for hours and the happy occasion soured many engagements and ceremonies.
Did those who divert and block roads think or did they simply follow instructions from people who did not know Accra and Ghanaians?
Some of the road blocks were senseless at a time when President Obama was either in Cape Coast or miles away from the airport.
The arrival scene at the airport did not portray Ghana at its best. The drumming was monotonous and spontaneity of action appeared to rule the night. I could not believe it.
President Mills waved good bye to his host when President Obama left the airport.
We have a tradition of welcoming guests which is not very different from the norm in the global village. We followed this tradition and custom in the early years following independence and after.
The august guest is received with pomp and pageantry at the airport and then escorted to his temporarily residence. I therefore expected President Mills to sit in the same car with President Obama as they drove to the guest's apartment.
President Mills would then offer a drink to the guest. After the exchange of a couple of pleasantries President Mills would then show President Obama his rooms and retire.
In view of the prior heavy and tiring engagements of President Obama that would be sufficient for the day.
It was therefore horrifying to see President Mills saying goodbye to his guest at the airport. Who planned this? Who agreed to this procedure?
This is a matter not for ministerial committees but for officials who have been in the job for years and have institutional and personal memories to fall open.
In Ghana the responsibility falls on the Foreign Ministry and State Protocol? Why did they not do their duty? Were they not allowed to do their job? Procedures must be changed or heads roll if necessary.
The things which went wrong were symptomatic of our slide into dependency and erosion of self-confidence.
Did our officials and ministers try to do what the Americans wanted or did they insist on maintaining our traditional ways of welcoming guests making allowances for real security demands?
When President Obama failed to turn up at the durbar of chiefs at Cape Coast the whole country and its institution of chieftaincy was snubbed.
Was the durbar agreed with the Americans? If so who changed things? And could not 15 minutes be squeezed in to salvage the dignity of our chiefs?
The dependency syndrome is of crucial importance when we assess the significance of Obama's visit and the message he bore. He did not bring manna from heaven.
He asked us not to expect it. America will assist us but we are primarily responsible for our development. His hopeful message was that we can do it with dignity and self-respect.
And so the aftermath of the Obama visit should be the emergence of a national blue print for development based on our human and material resources.
The people should be told what is possible and what sacrifices are expected of them. Foreign aid or assistance when available should support our plans and objectives and should not determine their nature or course.
The well-being of the people is not determined by economic indicators. When graduates and other professionals remain unemployed for years we should be incensed by the grievous waste of human resources.
Our aim should be to get such valuable and enhanced human resources to work. The state has the primary responsibility in this regard. Whether it provides conditions for private enterprise to provide jobs or intervenes more directly should depend on the situation and not on pre-conceived ideas and donor advice.
Unemployment which can be contained by economic growth is not the only problem confronting the nation.
The entire educational system is in crisis. Health facilities are tearing apart at the seams. We cannot resolve these problems in an ad hoc fashion.
We need a comprehensive co-ordinated plan. Implementation will cause hardship or problems to many just as the decongestion of Accra may bring hardship to some. But the bitter pill must be swallowed if we are to get better.
It is politically wise to take the hard decisions now and get favourable results in two years time. So even to those who worship political expediency this is the time for action.
Three years later the results will show. Obama came at the right time. This is the time to do it. Yes we can.