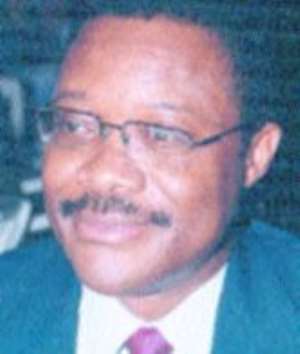 The Group Chief Executive of Ecobank Transnational Incorporated (ETI), the Pan African bank, Mr Arnold Ekpe, has won the African Business Leader of the Year award at the maiden Commonwealth Business Council (CBC)-African Business Awards held in London.
The bank was also adjuged the winner in technological innovation.
A statement issued by the organisers, CBC and the African Business Magazine also awarded MTN and Ms Ndi Okereke-Onyiuke the top honours at the event.
Ms Okereke-Onyiuke, Director General, Nigeria Stock Exchange, won the African Businesswoman of the Year award for her inspirational work in Nigeria and other African countries.
The statement said about 500 government, business and media leaders from Africa, Europe, Asia and the USA attended the CBC-African Business Awards.
The Prime Ministers of Cameroun and Lesotho, Messrs Ephraim Inoni and Bethuel Mosisili respectively; Nigeria's Minister of National Planning, Senator Daggash; the Chairman of Coca Cola, Mr Neville Isdell; and other prominent diplomats and business people presented the awards to the winners.
Mr Omar Ben Yedder, the Associate Group Publisher of African Business Magazine, the organisers of the event, said "we are thrilled to honour these exemplary men, women and businesses that truly embody African excellence in the world markets," the statement said.
The statement also indicated that the nominees and winners of the African Business Awards 2008 were a shining example to their peers and the global business community, adding that "they were success stories in Africa which need to be recognised and celebrated".
Other winners were Mo Ibrahim, who won the Lifetime achievement award for changing the telecoms landscape in Africa, and also his contribution in changing the perception of doing business in Africa.
The other big winners on the night were MTN, Anglo American, which won three awards: Best Global Business, Contributor to MDGs and Gender Sensitivity. MTN also won two awards:
 Brand of the Year and Best African Business.
The Chairman of Rio Tinto and the CBC, Mr Paul Skinner, said "the forum and the CBC-African Business Awards are a demonstration of the strong interest of business in Africa.
 The enthusiasm and confidence of investors and business leaders in Africa is palpable. The optimism is immediate and for the long term".