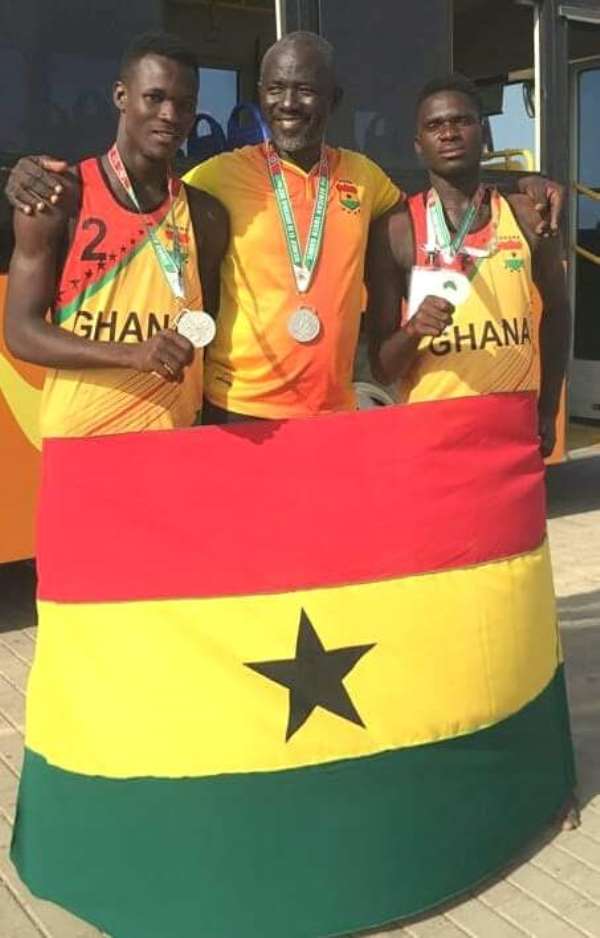 Ghana's Beach Volleyball star Kelvin Carboo has expressed his sincere gratitude to the Sports Writers Association of Ghana (SWAG) for recognizing their achievements and naming them among the nominee for a special meritorious award at the 45th annual Awards nite.
According to Carboo, the Ghana Beach Volleyball team went through a lot of difficulties but managed to keep their heads up and play marvellously to win against well prepared and motivated opponents.
He thanked the media who gave them the publicity and promotions as well as the Ghana Olympic Committee (GOC) and the Ghana Volleyball Association (GVA) for giving them the chance to exhibit their God-given talent.
Kelvin Carboo who recently organized an exciting tournament at Nungua Sango Beach hinted that many youth are interested in the game and should be encouraged with promotions and frequent local tournaments.
Carboo and Samuel Essilfie have been raising the flag of Ghana at international tournaments since they got the exposure at the Youth Olympic Games in Bahamas.
In February 2019 they represented Ghana at the U21 World Championship Qualifiers and won gold, in April, they were at the Senior World Championship in Abuja, Nigeria and reached the quarter-finals.
In June 2019, they represented Ghana at the first African Beach Games and made the nation proud with a silver medal.
They were at the 2019 African Games in Morocco and playing against top stars, they managed to reach the quarter-finals, placing 7th.
Currently, Ghana is ranked 4th in Africa, and it is by their selfless efforts ably guided by hardworking Coach Moro Mumuni.
Just last Sunday, they won the first phase of the Tokyo 2020 Olympic Games qualifier at the Laboma Beach in Accra.