Of Impending Changes In Black Stars Backroom [WHAT WE KNOW]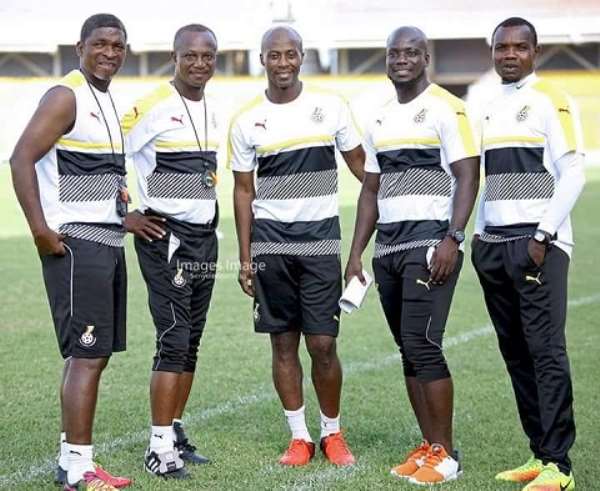 Kwasi Appiah looks set to stay beyond his current contract as coach of the Ghana senior national team.
There has been some loud silence by the Ghana Football Association with regards to the future of Appiah and his technical team since the Black Stars' disastrous 2019 Africa Cup of Nations outing.
Ghana failed to utilize the October international break to prepare for the upcoming Afcon 2021 qualifiers.
But Footy-Ghana.com understands that barring any development, coach Kwasi Appiah whose current deal expires this December would be handed a fresh two-year extension.
Appiah's further stay at the helm of affairs will come with the change of some personnel in his backroom.
It's a happener as Footy-Ghana.com has established that the coach has already informed the affected of his decision
Three 'key' members – deputy coach Ibrahim Tanko, goalkeepers' trainer Richard Kingson and Technical Coordinator Stephen Appiah are only awaiting official announcement by the GFA.
So what has happened, why the trio?
As much as Kwasi Appiah might have had issues with the conduct of some of his charges, the coach, we understand, tabled 'legitimate reasons for their axing.
Kwasi Appiah's 'official' reasons for effecting changes in his backroom, as Footy-Ghana.com sources explain, are quite convincing but we cannot rule out that he was not enthused by the actions of some of them at and post the 2019 Afcon.
Ibrahim Tanko
The former Cameroon assistant initially worked as 1st deputy to Kwasi Appiah before long-serving Maxwell Konadu was asked to concentrate solely on the Black Stars 'B' team prior to the 2019 Afcon.
And like by design, Tanko is also to chart a similar path. 'Concentrate on the Black Meteors!.'
Ghana qualified to participate in the 2019 Under-23 Africa Cup of Nations after stunning Algeria in their own backyard earlier this month. The competition is set to come off November 8-22.
And this means, Tanko who heads the team, will need no divided attention in his quest to meet the country's target of securing qualification to the 2020 Tokyo Olympic Games football tournament by placing among the top 3 in Egypt. Ghana last featured at the Olympics in 2004.
But that leaves a huge vacuum at the Black Stars. The senior national team will be kicking off their 2021 Africa Cup of Nations qualification just 48 hours after the U-23 Afcon kicks off in Egypt.
And this, Footy-Ghana.com sources indicate, has informed the Black Stars head coach's decision to recommend the appointment of a new deputy before Ghana hosts South Africa in Accra on November 10 and then face Sudan away a few days later.
Richard Kingson
Couldn't 'Olele' step in briefly for Tanko so the latter returns to post later? Also since the position of a goalkeepers' trainer is equated to that of an assistant?
There has been a quite curious twist. Not because Kingson's position means he is 'specialized' at training 'just' goalkeepers. Rather, it's an issue of his qualification to hold the role per international football standards.
Footy-Ghana.com sources indicate that at the Afcon, Ghana risked presenting Richard Kingson as goalkeepers' trainer (technically regarded as an assistant coach) as his license fell short of requirement and were duly prompted about the shortfall by officials at the tournament.
Due to this, Richard Kingson has been informed of the need to upgrade himself in order to occupy the post sometime in the future.
Stephen Appiah
The ex-Black Stars captain has finally bought into talks of the need to pick up his coaching badges. Footy-Ghana.com understands he has already made inquiries from the technical directorate of the Ghana Football Association.
Despite Appiah's huge profile, the retired international is said to be on a $2,000 monthly salary – a remuneration which comes with the position he holds in the Ghana backroom.
It is understood that close associates including Black Stars coach Kwasi Appiah have encouraged the former Juventus midfielder to acquire his badges for a better paycheck and as well give back knowledge he has acquired throughout his career to the next generation.
According to Footy-Ghana sources, Kwasi Appiah was not convinced by how Stephen discharged his duties at the Afcon. There were cases that exposed the more recent former team captain's lack of control over the team, coupled with his failure to report to appropriate quarters some disciplinary issues.
While coach Appiah's decision to remove him from his backroom is informed by some of these concerns, the former has offered to support Stephen Appiah in his bid to becoming a certified coach.
Possible replacements?
Kwasi Appiah and former Black Stars Team Manager Sabahn Quaye
Another ex-Black Stars skipper, Charles Kwablan Akonnor (recently left Asante Kotoko) and former Team Manager Sabahn Quaye (currently with Hearts of Oak) have both been recommended by Kwasi Appiah to replace Ibrahim Tanko and Stephen Appiah as assistant coach and Technical Coordinator respectively.
Also, one of Najau Issah of Wa All Stars fame and Asante Kotoko's Joe Baah are being considered for the position of new Black Stars goalkeepers' trainer.
The Ghana Football Association is expected to confirm changes to the Black Stars backroom staff any time soon.