Retired Women Footballers Make Donations To Black Queens Ahead Of AWCON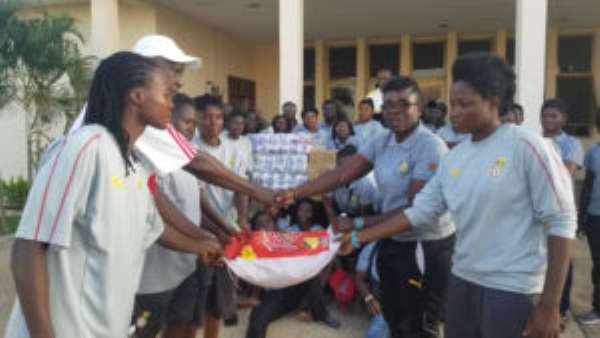 The Retired National Women's Football Association have made donations to the Black Queens ahead of the Africa Women Cup of Nations.
The Association led by Mercy Tagoe presented the items to the team at their training based at the Ghanaman Soccer Center of Excellence over the weekend.
The items includes Kleesoft washing powder, Lux soap, Lifebuoy soap and Awake drinking water. It was received by captain Leticia Zikpi on behalf of the team.
The support by the former players is expected to motivate the girls as they continue with preparations ahead of the Women's Championship.
The Black Queens have been engaged in several low profile friendlies with the team also expected to play an international friendly before the tournament begins next month.
In a related development, the Association also presented same items to the Black Maidens who are also preparing for the FIFA U-17 Women's World Cup in Uruguay.