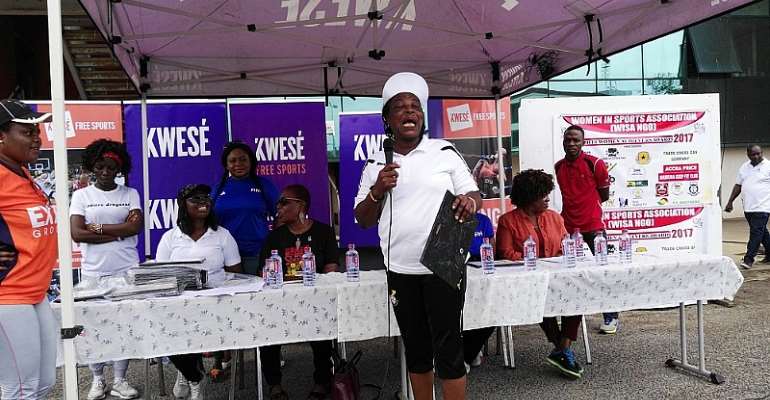 The National Sports Authority (NSA) has commended Women In Sports Association, a non-governmental organization aimed at empowering female sports personalities to excel in their various disciplines.
Madam Fredrika Davis Mensah of the Public Relations Department of the NSA who stood in for the Acting Director General said WISA NGO has done a great job by recognizing and rewarding some distinguished sportswomen in Ghana.
She noted that it is the duty of the NSA to perform such a function, and commended the leadership of the women's organization made up of journalists, footballers, boxers, athletes, keep fit clubs.
According to Fredrika Mensa Davis, every athlete cherish recognition and honors, so performing such duty is a blessing and wished that the association will come up with other events which the NSA is ready to support.
Among female sports personalities rewarded were Mona Captan Myers-Lamptey (Golf), Lanier Addy (Only Female Executive GFA/GOC), Yarkor Chavez Annan (Boxing), Naa Amerley Turkson (Boxing), Ethel Jacks (Table Tennis), Elizabeth King (Hockey), Christie Dodoo (National Sports Authority), Alberta Ampomah (Weight Lifting / Arm Wrestling), Rosalind Amoh (Media - Print), and Fredericka Mensah-Davies (National Sports Authority).
The rest are Mavis Amanor (Media - Radio), Senyuidzorm Awusi Adadevor (Media - Photo), Sammy Heywood Okine (Media - Online) SPECIAL as only male, Dr. Deborah Cubagee (Mother, Women Sports), Madam Habiba Attah (Mother, Football), Gifty Naa Darkuah Dodoo (Only Female Executive (Boxing) and Gifty Annan Myers, (Rugby/SWAG Patron).
Others are Margaret Simpson, Alice Anum, Vida Anim, Alberta Sackey, Adjoa Bayor and the national female football teams; Black Queens, Black Maidens, Black Princesses who have in recent times been doing quite well.
Posthumous awards went to the Late Gloria Oforiwaa aka "Bele Bele" and former national hockey chairperson, Theodosia Okoh who designed the Ghana national flag.
The event was sponsored by Kwese Sports TV who presented decoders to the winners, Incentive Marketing who did the certificates, Accra Price who donated drinks for refreshments and others.
Madam Ethel Jacks former African Table Tennis champion who was present to receive her award said she feels content to be rewarded by a women's group who are to see to the development of women and sports. She prayed that WISA NGO will grow to become one of the best sports events organizing institutions and also attract more sponsorship to undertake their duties.
Adjoa Bayor, former Black Queens captain and ex African female footballer of the year 2003/4 said she was shocked and impressed with what Madam Commodore has done as she thought after she stopped playing active football nobody is thinking about her.
She prayed that God will bless and protect members of WISA and promised to play the role of Ambassador for the organization.
Female boxer, Yarkor Chavez Annan who has been fighting internationally also expressed her shock as she never expected to decorate her room with such a nice award and will keep it safe for her family, friends, and fans to see.
Christine Dodoo, a staff of the National Sports Authority who also received an award lauded the efforts of WISA members and wished them success in future endeavors.
Sammy Heywood Okine
Sports Journalist