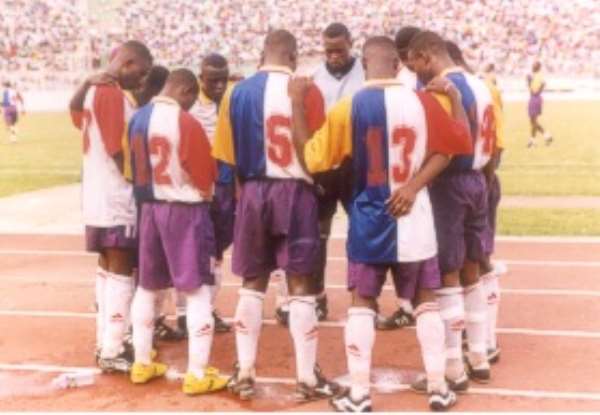 Poor defending and general lack of attacking potency weighed heavily against Accra Hearts of Oak yesterday as they lost 0-2 to Sable de Batie in their Confederation Cup group game in Douala.
Two quick first half goals by the Cameroun side condemned Hearts to their first defeat in the goup stage and also pushed them down to the third position behind Camerounian sides, Cotonsport Garoua and Sable. Buoyed by a scoreless drawn game with Cotonsport two weeks ago, Hearts were hopeful of another good result away. And the conditions were just right for them — good weather, commendable officiating by Togolese referee Djaoipe Kokou and his assistants.
However, when it mattered most the Phobian lost the plot as their opponents looked hungrier for a win, a quest aided by a well-executed strategy before a sparse crowd at the Reunification Stadium in Cameroun's economic capital, Douala. On a day that Hearts' defence fizzled out under fast breaks, the Emmanuel Osei Kuffour-led attack also lacked potency to rescue the team.In fact, Kuffour's famed terror was non-existent and his striking partner, Prince Tagoe, was virtually eclipsed by his stronger markers for a greater part of the game.
Eventually, when Coach Jones Attuquqyefio decided to schuffle his cards and bring on his substitutes to provide fresh attacking options, it came too late in the game to rescue the Phobians from defeat. Sable's intentions to win became evident as early as the eighth minute when striker Keumajou tested goalkeeper Eben Dida with a weak ground shot.
Hearts proved equal to the task and offered an equally strong response with unrelenting attack in the first 20 minutes, with improving Bernard Don-Bortey, who gave his markers a tough time, leading the attack. Each time Sable weathered the storm they gave Heart a headache through their swift counter-attacks that really exposed Hearts' defence.
A similar fast break in the 27th minute gave Sable with a corner kick from which Serge Emaleu ghosted past Kwabena Boafo to head the ball past outstretched Dida, for the opening goal. Hearts hardly recoverd from the goal when Sable consolidated their lead with the second goal five minutes later through Keumajou, who punished the Phobian defenders, by outrunning Dan Oppong and Dan Coleman before firing past Dida, who reacted late.
Sable's stoic defending denied Hearts any chance of recovery, as their goalie Martin Ashu pulled off some heroic saves. On many occasions Ashu stood between Hearts and a goal, twice denying Tagoe (34th and 45th minutes) and Don-Bortey in the 38th minute plucking his 25-metre Beckham-like freekick.
Sable perhaps confounded Hearts the more after recess. They did not resort to defensive play but rather maintained the presure on Hearts with their dangerous fast-breaks which gave Attuquayefio's side many anxious moments. Playing three striker in a 4-3-3 formation (same as Hearts later in the game), the home side found an inspirer in striker Mathias Nlend who run the show, leading the three-man attack to torment the Hearts defence.
In fact, the homesters became even sharper as the Hearts strikers began to lack ideas upfront. Nlend nearly scored another goal for Sable barely two minutes into the second half but Dida rose to the occasion with a timely save.Hearts' inability to redeem a goal early in the second half thus allowed Sable to grow stronger in confidence to the extent that they engaged the Phobians in a boxing-style pound-for-pound, with Nlend having a field day.
Hearts needed an inspirer who could think on his feet; Kuffour posessed that quality but the veteran striker's speed and strength had deserted him and could not really threaten the home side. With Tagoe also eclipsed, Attuquayefio introduced young striker Louis Agyemang and later Lawrence Adjei to provide fresh energy and ideas into the attack.
Agyemang brought some urgency into the game but it was too late to cause much damage as Sable had taken a firm grip on the game and were unwilling to allow Hearts any room to redemption, holding on to their two-goal lead for a well-deserved victory.