Olympic Winner Martha Bissah Honoured in Newaccra Achievers List 2015.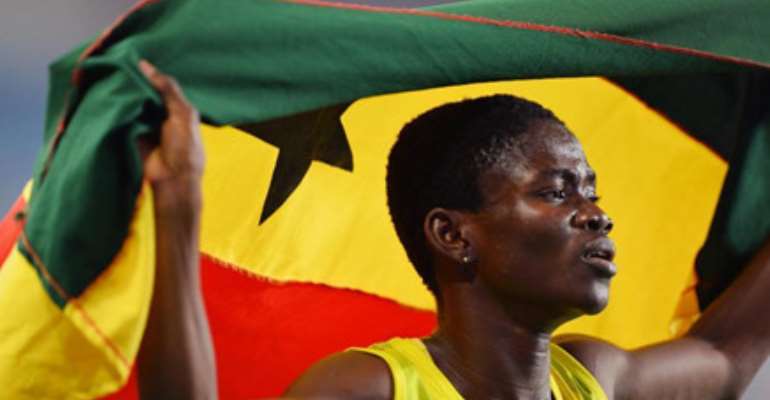 Ghana's first Olympic gold winner, Martha Bissah, has been honoured in the 2015 Newaccra Achievers List , a celebration of unsung young achievers who are making impact and showing future promise.
Martha and twenty-nine others make up the thirty member list released as part of a complete report. This year's edition is titled 'The Newaccra Achievers Report 2015; Thirty Ghanaians About To Shake The World'.
Martha's honour profile in the report reads;
'When seventeen year old Martha Bissah qualified for the World Youth Championships, a journalist on the sidelines of the track asked her how far she thought she will go in the competition. Struggling to catch her breath, Martha responded 'In China, I must say, I will be first'. How true were those words. Martha Bissah is the first ever Ghanaian to win an Olympic gold medal.'
Martha also holds the record for the youngest achiever in Newaccra's compilation.
According to the report, the achievers are selected by a rigorous consultative process that ensures that honourees have actually achieved something that will be considered outstanding among peers.
The report has been described as a credible reference for entrepreneurs, investors and donors, academics, policy makers, media and civil society. The Newaccra Achievers Report is published every year by Newaccra Magazine, a leading success and personal development website.
The complete twenty-seven page report contains a list of achievers, profiles, detailed analysis and forecasts.
FULL LIST OF HONOUREES - THE NEWACCRA ACHIEVERS LIST 2015
Adjei Agyei-Baah, Haiku Poetry Champion
Anne Amuzu, Nandimobile
Bryite Asamoah, Healthline 255
Christian Atsu, Footballer
Daniel Ampofo, Ninety3 Studios
Emmanuel Nyame, Ghana StartupCup
Emmanuel Tagoe, Boxer
Eric Vondee, My Home Teacher
Frederick Osei Mensah, GMC Consulting
Gamel Adam, Gamel Clodin
Josephine Marie Godwyll, Young At Heart
Joshua Ayinbora, Agriculturist
Kenneth Owusu Akyaw, Gnalet
Kobby Blay, Ghana Health Nest
Lesley Afra Aidoo, Afra K Designs
Lily Kudzro, Devio Arts
Marfoa Acheampong, TouchMakeup Artistry
Martha Bissah, Olympic Gold winner
Michael Dakwa, Team1000words
Michael Bediako, Adinkra Ino-V8
Nana Akwasi Awuah, Lawyer and Activist
Papa Oppong Bediako, Illustrator
Patrick Atsu, Filmmaker & Engineer
Philip Kofi Ashon, Citi FM
Philip Osei Bonsu, Public Relations Specialist
Prosper Ahmed Amuquandoh, Academic
Randy Osae Bediako, Kharis Group
Theophilus Acheampong, Petroleum Economist
William Okyere-Frempong, HuD Group
Yaw Odoom, Trotro Diaries
_
Source, Newaccra.com