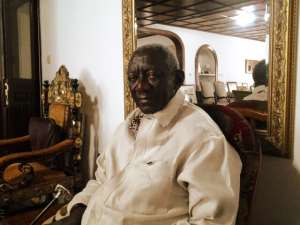 By Fiifi Anaman
Unlike many who have been where he's been, John Agyekum Kufuor's affiliation with sports and football in particular is as deep as his trademark baritone voice, and this is evident in his speech too. The authority with which he speaks about the beautiful game is arresting, and his explanations are philosophical – away from the usual clichés. The second President of the Fourth Republic of Ghana knows his football.
"I've always been exposed to football and I've liked it," he tells allsports.com.gh in an interview at his Airport Residential Area home in Accra. "An elder brother of mine played for Kotoko in the [19]40′s and then some other family members played for both Kotoko and Evergreens in Kumasi. From then, my love for football began.
"Through school too; I attended Kumasi Government School and we had three football pitches, in those days. You can't believe it. Mighty compound, with three pitches. It was great for sport generally. We played volley, cricket and others too, but football was the center piece of sports."
The young Kufuor, then in primary school, had the privilege of seeing many great players emerge from his school. Some rose to play for big teams like Kotoko and Kumasi Cornerstones, he recalls, and even for the national team. "People like Kwabena Badu, nicknamed Koka; he's still around even. Asebi Boakye, who died last year or so. There were others who were really good; exceptionally good players. By then, I was in Primary school and I was lucky to get to watch all of them. They were my heroes."
"I moved to Prempeh [College] and I played for my house. It got to a point I was selected to play for the school team."
From then on, it was serious academics for him at the tertiary level of education, embarking on a quest to be well-strapped knowledge-wise in anticipation of a long career in politics. He attended Lincoln Inn, London and Exeter College, University of Oxford from 1959 to 1964.
Kufuor's political career had properly kicked off during the second republic in the late 60′s, starting out as a deputy foreign Affairs minister and leading Ghana's delegation to the United Nations at a point. But in the late 80′s, he answered the calling of football administration, becoming chairman of Asante Kotoko, his boyhood club.
"I rose from being a fan from infancy of this great club to becoming its chairman after first being a board director. I did that for about three years and stepped down to concentrate on my politics."
Politics has always wrestled with football for Kufuor's attention, but he's managed to combine the two effectively over the years. Like politics, Kufuor sees sports as not just a leisure activity, but a necessary force crucial to the well-being of people. A sine qua non for a sound society.
"Daddy?" says former first lady of Ghana, Mrs Theresa Kufuor, in an affectionate reference to her husband of 51 years. "He's always loved football. Ei, as for football? He does not joke with it. Did he tell you? He was Kotoko chairman at some point.
http://allsports.com.gh/wp-content/uploads/2013/11/Theresa-Kufour.jpg
"But the politics was always calling during those years. He was even combining at a point, and as soon as he had the chance, he finally left!" she laughs. "Those things take a lot out of you because you always have to go for games and meetings; he was travelling to Kumasi all the time. I remember anytime Kotoko played, it used to affect me too. My feet would get cold anytime things were not going well. I could feel I was losing too, it was affecting me. And I didn't even like football!"
"This football thing? Ohhhh no, no," she shakes her head amusingly. "One day someone's heart will literally fall from his chest!"
Kufuor's time at Kotoko was not as long as he would have liked, but he did take with him some very fond memories. "In my tenure we had brilliant players like Kwesi Appiah, who's now Ghana coach," he says, with visible pride.
"We also had great players who had matured into coaching like Ibrahim Sunday and [Reverend] Osei Kofi. All these people I know very closely. Others like Opoku Nti, Thomas Boakye, Joe Debrah, Frimpong Manso and Addae Kyenkyenhene, brilliant player who we sponsored to go to Ajax in Holland to learn coaching but somehow ended as pastor or so," he smiles, "And of course Opoku Afriyie, who is my cousin actually. 'Bayie' they called him. He scored impossible goals."
A dark episode
May 9, 2001. 37 Military Hospital, Accra – There, in a frighteningly morbid hospital atmosphere, Kufuor stood, grief-stricken. There were dozens of severely injured people, and an agonizing lineup of lifeless bodies. Families of victims wailed uncontrollably. The pain and anguish was contagious. He couldn't believe his eyes. He couldn't understand. "This is really sad," was all he could mumble to Reuters through the shock.
What had just happened was tragic. Thousands of fans had gone to watch a football game at the Accra Sports Stadium – a game between archrivals Asante Kotoko and Hearts of Oak, Ghana's two biggest clubs — and 127 of them were not able to return home to their waiting families.
"Beastly"
Their lives had been ended in a regrettable chaos. A chaos that saw some security officials mercilessly spray tear gas into an innocent crowd who were struggling to flee through locked exits, fatal stampedes ensuing. This was after a group of Kotoko fans, embittered by the circumstances under which they were losing 2-1 to their bitter rivals, stirred utter commotion in the stands.
"Some died by suffocation but the majority seemed to have died by being crushed," revealed the late Brigadier Daniel Twum, then the commanding officer of the 37 Military Hospital where most of both the injured and the dead had been rushed to. Never in Ghana had football turned so bloody. So serious. Till date, it remains Africa's worst football tragedy.
"It's…it's…it's crazy," Kufuor says, over 12 years on. That night at the hospital still haunts the former President, who left power in January 2009 after two terms at the helm. "I, I…..I….Look. I just couldn't understand."
Many Ghanaians could not too. "Everybody is devastated. Everybody is just shell-shocked," said Joe Aggrey, then Ghana's deputy Sports Minister. It was a tragedy that brought the whole nation to a standstill, rendering all other things irrelevant at that point. An unfortunate event that momentarily mended divides and put life into a whole different perspective. "It's very sad story," noted Harry Zakkour, who was then the Hearts chairman. "It's inappropriate to indulge in finger-pointing at this point," added the Kotoko chairman Herbert Mensah.
"What could have entered soldiers and policemen who went unto the pitch to fire into the crowd, killing innocent people? I, I…I don't know," Kufuor says, shaking his head slowly in a seeming bid to comprehend the disaster after several clearly unsuccessful attempts over the years.
"I think it was beastly," he says in a low, stern tone "…very beastly on the part of the perpetrators. I mean, its football and rioting and stuff happen, but for armed police to go unto the pitch to pointedly fire gas at unarmed fans?"
Even for Kufuor, for whom Politics has meant a lot for the most part of his life; that day, it was the last thing on his mind. It was his deep passion for football that made that experience particularly hard for him to come to terms with. One of his aides reportedly told Reuters that he had exclaimed in disbelief when he heard the news. "Yes…yes," he confirms solemnly. "I just couldn't believe it."
"When I went to the mortuary to see the bodies upon bodies piled onto the ground. I was like 'ah, what demon could have entered the perpetrators?'" Kufuor remembers, the shock still fresh in his tone.
President of the Republic of Ghana then, the Gentle Giant – as he's fondly known — was just four months into his first term, and the disaster was a cruel set-back. He would not have wished it on his worst enemy; having to lead a whole nation to mourn people whose love for football had cost them their lives. "We pray Ghana never experiences such a tragedy ever again," he says with a determined, never-again look in his eyes. "You just cannot forget that sort of thing. You just can't. It was very bad."
Nostalgic Tales from the power years
http://allsports.com.gh/wp-content/uploads/2013/11/JAK-y-Blatter.jpg
On the 7 th on January 2001, his political career reached its summit when he was sworn in as Ghana's ninth head of state since independence. During that proud moment, a result of years of hard work and sacrifice, through dizzying highs and crushing lows in the rough and tumble of politics, he thought about many things whilst sitting down at Ghana's independence square, after swearing his oath. One of those things, was sports, apparently. In between all the diplomatic trips, high level cabinet meetings, opposition pressures and all that came with being in the driver's seat for a nation, he always held sports close to his heart.
"Look," he begins. "Sports….You see, sports to me is cultural, and I grew up in that culture. The schools I started in all believed in the role of sports in the development of the human being. So when I got into politics and of course, got the chance to govern, naturally, I saw sports as a necessary training of the people generally; especially the youth. We wanted to encourage sportsmen and provided the necessary encouragement and facilities for them. That's why we combined youth and sports in a ministry."
The encouragement he speaks of achieved quite a lot in football; two landmarks being prominent. First, Ghana qualified for the World Cup for the first time in its history in 2006, and secondly, the country got the rights to exclusively host the Africa Cup of nations for the first time since 1978. His government built two more stadia to complement Ghana's two traditional ones of the Accra Sports Stadium in the capital and the Baba Yara Stadium up north in Kumasi, ahead of the tournament in 2008. Something he speaks of with pride.
But not with more pride than when he speaks about the World Cup in Germany during the summer of 2006. "It was important for me and for all of us," he says. "That's why I flew there to watch our first game against the Italians. I made it a point."
Kufuor remembers flying into Hanover with German President Horst Köhler and football legend Franz Beckenbauer for the Italy game, which Ghana – being the nervous rookies that they were –lost by two goals to nil.
http://allsports.com.gh/wp-content/uploads/2013/11/Italy-Ghana.jpg
"Ghana was playing so well but it was like somehow, our team had been struck by stage-fright. It was big exposure as our first major challenge. They played well but couldn't hit the back of the net when they had to," Kufour recalls.
"At a point in the game, Köhler turned to me and said 'Ah, your boys, don't they know how to put the ball  in the net?!' Rather to my embarrassment!" Kufuor remembers fondly and bursts out laughing.
"But Beckenbauer, who looked at the whole thing professionally, turned to me, perhaps to assure me or relax me. He said, 'Don't worry. You have got a good team. Your team will beat the Czech Republic.' As things turned out, truly, we did," he adds.
Kufuor talks about the loss to Italy and how he felt proud despite the disappointment. "You know, incidentally, Italy eventually became World champions and you know when you lose to a world champion its bad but not too bad. Plus we beat a Czech team that was very strong and we also beat the Americans. We came back home proud."
Critical Stars
http://allsports.com.gh/wp-content/uploads/2013/11/Stars.jpg
Kufuor had a very close relationship with the national team. They were almost as important as the economy. He would suspend all his activities just to visit the team in camp, and when he couldn't, he would have video calls with them in a bid to urge them on. "They were critical," he says. "In a way, they showcased Ghana in soccer. And soccer is global now. So they were very, very important."
"After the World Cup, Ghana became the center stage on the continent. And in terms of global football, Ghana was up there. In fact, we went on to do it in South Africa and we are going to do it again in Brazil."
The conversation inevitably delves into Ghana's recent World Cup qualification, achieved after beating Egypt 7-3 in a two-legged play-off after winning a four-team group.
Indigenous technical brains
"Im proud of the team for qualifying, and even more proud Kwesi Appiah is the coach. Kwesi and I relate very closely. He's very serious and focused; single minded both as a player and as a coach, like he's proven. I believe he deserves the role he's playing now [as coach]. I have all the confidence that he'll keep on improving."
http://allsports.com.gh/wp-content/uploads/2013/11/Kwesi-Appiah1.jpg
Talking about Kwesi Appiah – the first indigenous coach to qualify Ghana for a World Cup — without talking about the ever-ongoing subject of local vs expatriate coaches is almost impossible these days.
"I'm not fanatical about these things," says Kufuor. "For me, football is about talent; and talent tends to be individual. Forget about the race or nation or whatever. But at the same time there's no doubt at all, and I'm very convinced that we have got enough talent here to use."
Kufuor does not want to get drawn into the rumours that have hijacked headlines over the past few weeks concerning a reported attempt to bring in an expatriate to superintend Kwesi Appiah. "Currently, Kwesi is performing well so I can't imagine why anybody would like to look out for another coach. He's had exposure internationally too. I don't work with rumours, but as I said we have got good material and we should encourage him."
On subject of encouraging what we have, there's one of such incidents that he talks about with nostalgia. The Gentle Giant has always defended players of the national team amidst some serious public vilification. "I remember Gyan missed some chances [at AFCON 2008] and people wanted to tear his head off. I quickly came in to help because I'd seen this guy play and he showed so much strength. And again, he loves the game and plays with everything he's got so when they were making noise about him, I was like 'No, leave him.' And look at him now. He's an invaluable asset. Everywhere he goes he brings honour and fame to us."
Kufuor shares a special friendship with 'Sir' Cecil Jones Atuquayefio, the coach who was perhaps the most successful during his years as president, winning major continental honours with Hearts of Oak. "Yes it's true. I always encouraged him, even though he's Hearts!" he laughs out loud.  "No but seriously I don't see the [Hearts-Kotoko] divide, it's always about the talent for me. That's what makes me enjoy football."
Attuquayefio, one of Africa's most decorated coaches, won three of Ghana's Ghana's five continental club trophies, all with Hearts of Oak in the 2000s – A CAF Champions League triumph, a Super Cup haul as well as the first ever CAF Confederations Cup, beating Kufuor's Kotoko in 2004. Kufuor says he's "very, very much" proud of him.
The ballers
The former President loves good footballers, and speaks of them same humble, awe-inspiring tone that any other ordinary football fan does. "I see football as an art, and when you see a good artist, your heart goes out to the person."
This is what he says when asked about his all-time favorite Ghanaian footballer. "From what I can remember, and I don't want to be pushed to the wall because I have many of them,  is that when you talk about dribbling – having already described football as an art – then we're talking about people who could mesmerize their opponents on the ball. Names like James Adjei come to mind. He's still alive, in his 80s or so I think. Played for Kotoko and I tell you, he was awesome at his peak. And I can tell you he was one of our first footballers to use football boots around the 50s when people were playing barefooted. The way he could juggle the ball at his feet, he was a master at dribbling. He's very ingrained in my mind."
"Then there's reverend Osei Kofi," he adds. "He was a wizard."
"Then of course, there're the [Mohammed] Polos, and the Abedi Peles who were all masters in their time. Abedi for instance showed immense strength on the ball; you would push him and he would not fall and before you would realize, the ball was in the net."
http://allsports.com.gh/wp-content/uploads/2013/11/Abedi.jpg
The admiration for Abedi Pele is deep, and he cannot help but to wax-lyrical about the "Maestro."
"Abedi should be a fixture if we ever have a football museum," he says. "He really earned his position to a certain degree. He was a master, the captain of the team. His sons are showing a lot of promise but they are yet to get there; as in achieve what their father achieved."
He goes on, "I like Stephen [Appiah] very much too because he's a stalwart. He always led us when the going was tough and he also combined beautifully with Essien.  I also have another favourite who scores impossible goals….who plays for Milan….erm…ermmm…Sulley!" he remembers. "Yeah that's him.  I visited Milan once for a function after I had left power. I think that time he was playing for Inter. I remember he came in and I was filled with such pride. He, Essien and Appiah together could hold their own against any side. Very strong."
Kevin Prince Boateng? Is there a chat about Ghanaian football these days that does not have his name pop up? "Fantastic player," says Kufuor matter-of-factly. "Strategist. And strong too. He combines the Ghanaian skill in playing with the strength and focus of Germany."
http://allsports.com.gh/wp-content/uploads/2013/11/KPB.jpg
Boateng has heavily polarized opinion on the Ghanaian football landscape over the past few years, sparking a fierce commitment vs talent debate. Kufuor shares his thoughts on the issue. "Ideally, it should a combination of both. But at the bottom, I'll always go for talent. Commitment is crucial but you may be committed without being skillful. And this is competitive, we want to win!" he says, gesticulating with a clenched fist, his lips parting in an ebullient smile.
More room
He watched Ghana's second leg against Egypt in Cairo, a game that Madam Theresa Kufuor says she couldn't bear to watch, given all the tension, though she believed it would be impossible for the Egyptians to claw back.
"The second leg against Egypt really stretched our side," Kufuor opines. "To be fair, Egypt possessed the ball I'll say almost 60 to 70%. Strong, focused, possessive, and explosive, as you like to use."
"It was not our day. What they did means we have to work on our stamina and strength. We need to be brave hearted.  I believe we can do it [make an impact in Brazil] but we have to really prepare well. They  have to keep their eyes always on the ball. I believe we have what it takes to do well, otherwise, we would not be there to compete but that's not to say we don't have room for improvement."
http://allsports.com.gh/wp-content/uploads/2013/11/Egypt-Ghana1.jpg
He also has a few things to share on the Ghana Premier League, Ghana's domestic top flight that has struggled to grab the attention of football lovers over the past few years. Nothing compared to the early years in his tenure, the early 2000s, when stadia were filled to capacity and the ordinary Ghanaian knew his own game so much and was excited about it. His observations, though not about the pervasive culture of apathy, are astute too.
"Now we have many teams and talent is so diffused all over so much so that even the giants are beginning to fall. Sometimes some team perhaps no one has heard of will be reported beating Hearts or Kotoko. Then you begin to wonder what's happening?" he says. I remind him of Kotoko being beaten by minnows Bechem United earlier this season. "You see!" he smiles. "Look at that!"
"But it's good for the game," he readily admits.
Helpless passion
Kufuor, who turns 75 on December 8, has a love and knowledge of football that is fascinating for a man who who's known for so many others things. It's refreshing. There's a intriguing pureness about the enthusiasm. "There have been times where I have had to stop watching football with him because I get so nervous and confused about his constant complaints about how some player is not doing something right or how the team is not doing well," says Mrs Kufuor. "He likes football very much."
She couldn't have been more precise. At the beginning of the interview, he had smiled, "The questions are short, right? I'm sure we'll be done in no time!" He had just returned from an outing and there was another guest already waiting to see him. But once he started talking, he just couldn't stop.
He watches football as much as he talks about it too. "I always watched football even when I was in office, anytime I got the opportunity to. Even now, I watch a lot of football."
And it comes with it's benefits, for someone lucky to listen to him go on about the game he loves so much. When it comes to football, Kufour loses that overly diplomatic demeanor characteristic of most politicians. It frees him and makes him remarkably engaging. It makes him a delight to listen to.
His passion for the beautiful game is equally as beautiful.
 
Follow the writer Follow @@fiifianaman https://twitter.com/@fiifianaman
 
Follow AllSports.com.gh Follow @@allsportsgh https://twitter.com/@allsportsgh