Afcon Beach Soccer 2013: Senegal and Ivory Coast in the final and to the World Cup!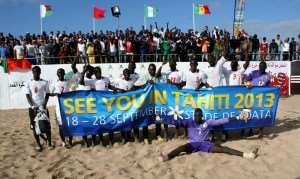 The Elephants and the Lions have qualified for the final of the sixth edition of Afcon Beach Soccer in Morocco. The posters of the semifinals of the competition had booked some great oppositions, Senegal-Nigeria and Ivory Coast-Morocco.
Goals galore in this confrontation between the Supersand Eagles and the Lions (9-8). With goals from Ng Sylla (doubled) Koukpaki (doubled), Sheikh (tripled), Fall (doubled). Emeka, Abu (quadrupled) Tale (tripled) have scored for Nigeria.
Côte d'Ivoire has simply destroyed the dreams of accession to the World Cup of the host country Morocco. The Elephants have got imposed in half, 5-4.
The two teams meet on Sunday for the finals of the Afcon. But they are also certain to play the World Cup of the discipline from 18 to 28 September in Tahiti.