The Gyan of Sunderland or the Gyan of Al Ain...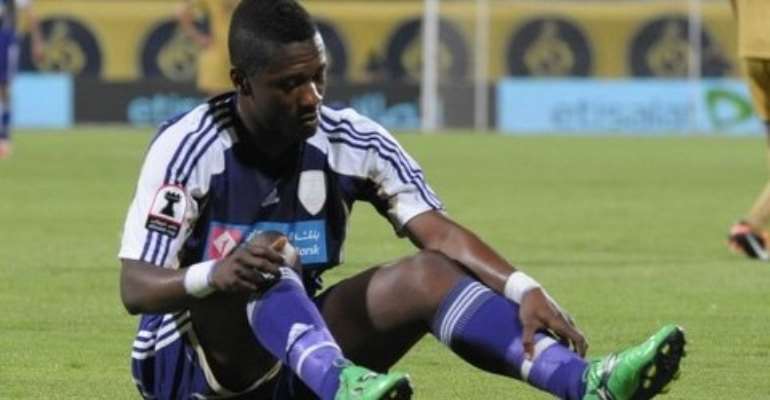 A little over a year ago when the shocking news about Asamoah Gyan's money bag move to Al Ain was I announced, I wrote an article and I bet the arguments I made were relevant then as they are today.
Given Ghana's performance at the just ended AFCON 2013 and Gyan's own performance in it, I am re-posting that article for Ghanaians and Gyan to be better judges.
I am not one of those who thought had Gyan had an absolute stinker in the just ended tournament, but I am convinced he could have done more if he were still playing in England.
Read it!!!!!!
Gyan's money bag move to Al Ain; Why I think it is wrong
I risk being called a hypocrite, a dimwit for daring to criticize Asamoah Gyan after he agreed to a loan deal to Asian giants Al Ain. And my critics will be right.
For, not too many people will resist such a tempting and mouthwatering offer.
Indeed, I have read and listened to comments about how it will take Gyan a little less than a decade at Sunderland to amass a quarter of the wealth he will garner in a year with Al Ain. It makes absolute sense.
And for a writer who has in the past supported Michael Essien's very unpopular, parochial, yet professionally sensible decision, it will smack of double standards, criticizing Gyan for making a similar self-interest decision to move to Al Ain. And I bear no grudges if readers take me to the cleaners.
Jesus Christ!!! I bellowed when I read the news about Gyan's move to Al Ain, Sunday. I had treated that news as an unintelligent rumour being peddled by a fan I was watching a premier league match with the day before.
Incidentally it was Sunderland up against Chelsea. I have a soft spot for Chelsea but for Gyan's sake – who was not in action anyway - I wanted Sunderland to score but not to win. 2-1 it ended in favour of Chelsea. I was happy.
My happiness turned to shock and disappointment when I read the news about his money bag move to Al Ain. And this is why I think Gyan and his advisors got it all wrong.
Maybe a little analogy might suffice. Lionel Messi, aged 25, has an international record of 60 matches 17 goals, Christiano Ronaldo, 26 has 83 matches 29 goals for Portugal. Brazil's Ronaldo De Lima, 34 years, 98 matches 62 goals. Wayne Rooney age 25, has played 72 matches and scored 28 goals. Samuel Eto'o age 30, played 103 matches has 50 goals.
In Ghana, Abedi Pele is the highest scorer with 33 goals from 73 matches; Tony Yeboah who is seen as Ghana's most prolific striker has 29 goals from 59 matches.
Now back to Asamoah Gyan. The now Al Ain striker at age 25 has scored 26 goals in 51 appearances for the Black Stars. Four of those goals were in the world cup. Except for Brazil's Ronaldo, none of the above names I believe has scored more goals in the World Cup than Gyan.
With all my deficit in math, I can conveniently say Gyan's international record thus far stands tall. Except Brazil's Ronaldo and Samuel Eto'o whose records are exceptional, Gyan represents Ghana's most credible football strikers who with little more years and a little more sharpness upfront will become the World's most ruthless striker.
Is it not intriguing that in spite of the many harsh criticisms about Gyan's potency upfront, he still has a better goal scoring record at international level than many of the World's football greats I have mentioned above?
My point is, Gyan is a rare Ghanaian football talent whose progress must never be toyed with. Every decision, every step he takes, must be geared towards making him ruthless in front of goal and attaining football's highest prize-World Footballer of the year- an accolade which has eluded Ghana for many years and perhaps for eternity.
Any objective minded person who watched the just ended World Cup would say that Gyan has the trappings of becoming that person to make Ghana proud.

As if the feat at the World Cup was not enough testimony of his pedigree and talent, Gyan was an instant hit in his first season in the premier league. Hardly a week passed without reviews about him; his dance moves; his songs; his goals.
The English Premier League history is neither lacking in examples of great strikers who were tipped to take the league by storm- judging from their performances in other clubs in Europe- but they failed to live up to expectation; nor is it lacking in examples of great strikers who had moved from one team in England to another team in England but have become vegetables in front of goal.
A certain Andriy Shevchenko and Fernando Torres are typical examples and their records are thoroughly embarrassing.
But Gyan, even after his late arrival at the English premier league, and a couple of knocks which kept him out of action in some few games, still managed a decent 11 goals in the season and a number of assists. His personal best has been 13 in Rennes, France.
Every progressive minded Ghanaian was just waiting for Gyan to play the best; beat the best; and become the best in his second season in England but no, he opted for money; quick money; like every typical Ghanaian would.
He chose to play in a league I could have sworn the Togolese league is better than- no disrespect intended- with a reason that he wanted to help build Asian football.
Tony Yeboah, Abedi Pele, George Weah have all helped built Asian football in the past but they all did that at a time 'when football was playing them' not the other way round.
I end with a quote by Gyan when he was signed by Sunderland: "For me, it is the best league in the world. It has been my dream to play here, so I am looking forward to playing my first game.
"Everybody watches the Premier League in Africa, it's the best league. I have followed it well and I know all about it," Gyan said. What happened to that dream, Gyan? Why this move at this time?
I hear people saying it is a smart move because it is only a season. After a year, he will return to the premiership and cause wonders. I hope so. I can only hope so.
I do not pretend to seek his interest more than Ghanaians or his family members would but I think the Al Ain move has taken one year away from inching closer to becoming the African and World best footballer.
Every single year played in Al Ain is that number of years wasted and that dream of becoming the African and World Best becomes more and more extinct.
If Gyan's first season's performance in the premiership is anything to go by, I have no doubt that in two more years he would have been the centre of transfer tussle between Europe's most glamorous teams.
He then would have earned more money and fame at the same time.
But with this Al Ain move, well, I have no choice but to follow his career; his progress as I have always done.
The only problem this time is I have no idea where, which channel I could tune to, to watch his matches in the United Arab Emirates. Somebody should tell me where!