Attuquayefio Given Bigger Role In Benin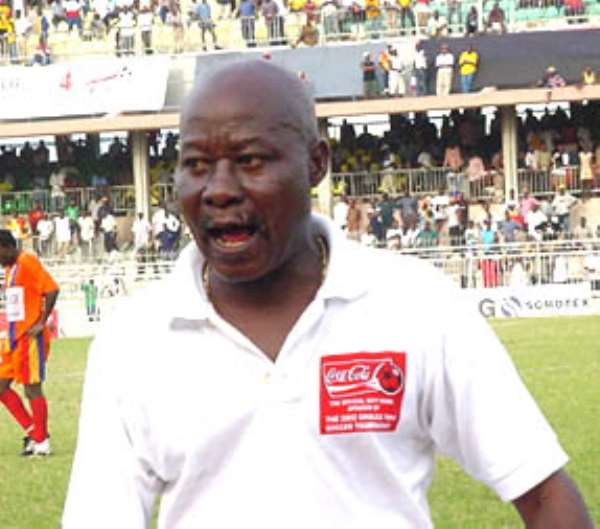 As Ghana football shrinks to a smaller unit amid fears that it might disappear below the horizon altogether, a Ghanaian coach who was sacked as the coach of the Black Stars is helping a former minnow in African football swim to view.
After ensuring the qualification of the Benin national team to the Africa Cup of Nations for the first in that country's history, Jones Attuquayefio has been given the mandate to coach the national U-20 and U 23 teams of the tiny West African nation in addition to the senior team, known as the Squirrels.
Attuquayefio arrived in Accra yesterday with a 16-man squad of the Benin U 20 team for a training tour in Ghana. The former Africa Coach of Year told GHANAWEB the Benin Football Association (BFA) has given him the mandate to prepare the team for the 2005 Africa U-20 Championships, which will be hosted by Benin.
He intimated that the U-23 team would also start their preparation soon under his guidance, a measure taken by the BFA to bring Benin football onto the map of football in Africa.
The U-20 of Benin will play some friendly matches in Accra before leaving for Cotonou next week.
His achievement in Benin has pointed the dagger at the heart of the Ghana Football Association who sacked him under bizarre circumstances in 2001.He described the decision to sack him in 2001 at a "stupid decision" ATTUQUAYEFIO TO BE HONOURED IN BENIN The qualification of the Benin football national football team for the African Cup of Nations to be held in Tunisia next year has propelled Jones Attuquayefio to an even higher plane of celebrity.
The Ghanaian coach who supervised the qualification of the tiny West African nation for the biggest football event on the continent is to be given a state award in Benin. He confirmed this in an interview with GHANAWEB yesterday and said that no date has been slated but it is scheduled for December in Cotonou.
The President of the country Mathieu Kerekou would confer the High State Award on the Ghanaian coach for helping his country qualify for the Nations Cup. The High State Award in Benin is an award normally reserved for longstanding heavyweights with the gravitas of a Kofi Annan.
This has opened the debate for the boffins in Africa football, with conclusion being made that he would once again be nominated for the "Africa Coach of the Year Award" an award he won in 2000 for guiding Accra Hearts of Oak to the treble.