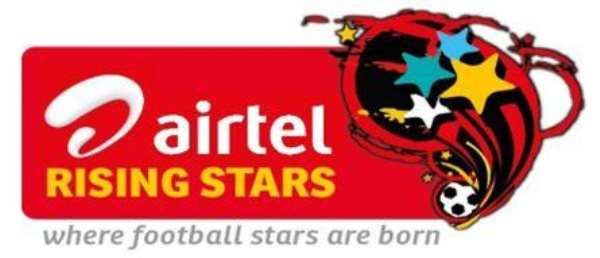 Accra, July 4, GNA – The national finals of the Airtel Rising Stars colts' football competition is currently on-going at the El-Wak Sports Stadium in Accra up to July 6.
Four male and female teams each have reached the finals vying for top spots to determine which of them represents Ghana at the inter-country tournament scheduled for Nairobi, Kenya next month.
Corporate Relations Manager of Airtel Ghana, Kwame Gyan in a release copied to GNA Sports said the two zonal winners, Brong-Ahafo and Volta Regions are joined by select-sides from both zones as well as four female teams.
"If the sort of competition we saw in the zones is anything to go by, then we can say for certain that the finals would be keenly contested", Gyan said.
He said that the chance to take part in the inter-country tournament and the exposure the footballers are gaining as a result of the Airtel Rising Stars competitions is serving as an added incentive for the teams to give off their best.
"We have officials of the National Juvenile Committee of the Ghana Football Association, seasoned coaches, scouts and those who matter in football deeply involved with the competition and we believe that the Airtel Rising Stars will serve as a major step to stardom for some of the lads and girls taking part in it", he said.
Airtel recently announced that it has signed a three-year partnership agreement with English Premier League giants, Arsenal Football Club.
The youngsters stand the chance to benefit from this partnership with the Gunners by providing UEFA – trained coaches to assist with training at an Arsenal coaching clinic for up to 50 footballers in each of the five markets - Nigeria, Ghana, Zambia, Uganda and Rwanda.
This partnership provides an impetus to the Airtel Rising Stars program in Ghana.
Airtel Rising Stars is an annual, multi-country grassroots soccer initiative that offers young boys and girls the opportunity to play, compete and showcase their talent to selectors in their respective countries.
Airtel Ghana's programme is being supported by Samsung, Multimedia Broadcasting Company and Happy FM with Sammy Kufuor and Nii Odartey Lamptey, both former Black Stars players serving as Airtel Rising Stars Ambassadors.
Airtel in Africa has over 50 million customers and operating in 17 countries across Africa: Burkina Faso, Chad, Democratic Republic of the Congo, and Republic of the Congo, Gabon, Ghana, Kenya, Malawi, Madagascar, Niger, Nigeria, Seychelles, Sierra Leone, Tanzania, Uganda, Zambia and Rwanda.
GNA