Owusu Relishes the bounce in his step at President Putter, but….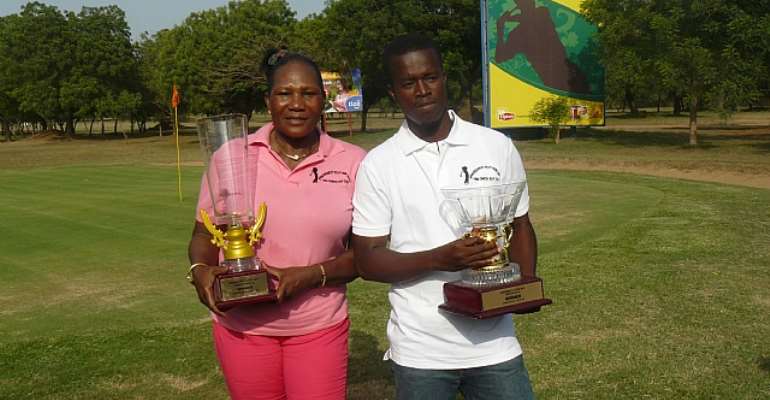 Enoch Owusu has a big bounce in his step. There is a glowing bubble around him after winning the President's Putter in the Men A Division at the Tema Country Golf Club. He played an amazing 8-under par after shooting to a net score of 64 off 4. Hoisting the stunning trophy and hearing the cheers across the club was phenomenal, however the rising star thinks differently about this feat.
"I have a weakness; my drive on the day was very bad and I need to get it sorted out. Winning the President putter was just a springboard to achieving my long set target; to win two of the major three tournaments." Referring to the Ghana Open, Accra Open and the Tema Open, he continued that, "I really wish to play as Pro, but I have to win at least one major to achieve this." He intimated
Owusu revealed that his shots are not very pivotal to his win because he mostly depends on his chipping and putting. Going forward, he looks to sharpening his chipping especially when 'abysmal' chipping at the event cost him birdies on as many as five holes.
However, a chip inside for a birdie on hole 16 and other birdies on holes 2, 14, and 15 got his game in good shape. He played a bogey free 18 hole as he recorded 14 pars eventually.
Occupying second place and third place finish were E.K Ocansey and Afriyie Nyarko who returned akin net scores of 67 but were separated on countback.
Feeling fit in a perfect mindset helped Lizzy Aku Yabah to seize a near improbable chance at winning the Ladies A Division in a circle of other seasoned lady golfers. After almost a year of not playing the Tema course, her name on the leaderboard was a clear signal of great things to come and gave her a momentum of confidence.
"I am still enjoying the bliss of my win, I am happy the course suited my game. Though it's been almost a year since I last played here, I really enjoyed my game today as I tried to pump myself up more after every hole." She explained. Playing off handicap 15, she returned a net score of 73 after she birdied hole 11 and made several pars that included holes 2,3,4,5 and 6.
Looking forward to the Captain's Prize that is due in less than two weeks, and a desire to improve on her putting, she revealed that, she will practice the course a lot more and whiles there, her last shot has to be her best, or she wouldn't leave.
Close contender Jessica Tei trailed second position with a net score of 74. Ann Brown and Joy Arkutu both recorded net scores of 75 to place third and fourth respectively but were separated on countback.
In the Men B, a wild momentum swings and steady play secured Tarun Gupta first place after he returned a net score of 68. He was followed closely by Kofi Ampaw with same net score of 68 but was separated on countback. Asiedu Ofei managed third place with a net score of 71.
Grace Amoah emerged winner in the Ladies B Division when she recorded a net score of 74. Occupying second place finish was Helen Appah with a net score of 76.
Characterized by great golfing all day, the President's Putter also offered a thrilling recipe for fun as winners were presented with superb trophies and avalanche of prizes that included TV sets, Microwaves, Rice Cookers, Blenders and Kettles.
Captain of the club, Dr. Owusu Baah in a short speech on behalf of the President, D.J Yim reiterated the club's commitment to organize impressive events and expressed his profound gratitude to the golfers for turning up in their numbers to make the day an eventful one.
Story by Collins Oppong
TheGolfer Newspaper