1st NAG Ex'co Meeting Held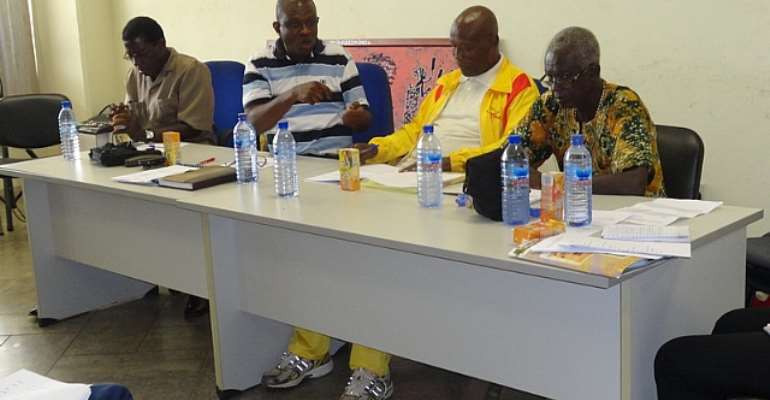 The Netball Association of Ghana (NAG) has held it first Executive Committee meeting with the Regional Associations at the Baba Yara Stadium, Kumasi to push for the 'Netball Crusade 2012 Agenda'.
Speaking at the meeting, Rev E.D Neequaye (President) of the association said that according to the new Legislative Instrument, NAG is now autonomous so it is about time the executive members look elsewhere in other to get financial support to run the association.
"According to the new law, LI (1988), associations are now independent and must therefore seek their own funds for their programmes. The National Sports Authority will only come in for advice or when a team is going out to represent the nation in a tournament so as you can see we have a lot of work to do", Rev. Neequaye said.
In attendance were, Rev. Neequaye (President of NAG), J.W Prah (1st Vice Chairman), Mr. Cyril Nii Quao (Technical Director), Mr. Gordon Lord Teye (Protocol Officer), Mr. Paul Hermit (2nd Vice Chairman) who held the National 5000 meters' record for 27 years when he set it in 1985 in Takoradi and broke it again in Bolga in the year 1986.
Some of the issues that were discussed at the meeting were;
· How to solicit for funds
· Forming at least two teams in every region
· Organizing workshops for trainers and trainees
· Training programmes for coaches and umpires
· How to grade umpires
· Sponsorship

By: El-Amisty Nobo (Freelance Journalist)