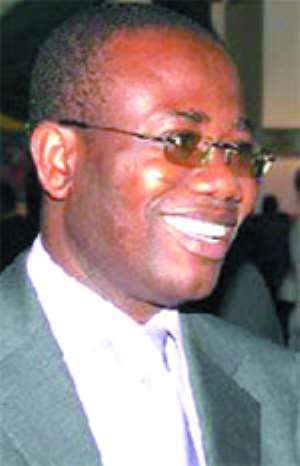 Kwesi Nyantakyi, GFA Boss
The President of the Ghana Football Association, Mr. Kwasi Nyantakyi, has announced that the 1991 Black Starlets squad that won the Under-17 world cup tournament in Italy will be appropriately honoured and immortalized this year.
This year marks 20 years since Ghana won her first silverware in any FIFA organized competition, when the Black Starlets defeated Spain by a lone goal, scored by Emmanuel Duah in the 77 minute.
The FA boss made this statement last Friday, during the launch of the Airtel sponsored initiative dubbed 'Airtel Rising Stars', an ambitious collaboration between the Ghana Football Association and the Telecom giants to unearth soccer talents between the ages of 13years-16years.
According to Kwasi Nyantakyi, this year will be 20years since the Black Starlets '91' squad brought glory to this nation, and it is appropriate that the anniversary is marked with the immortalization of the players who made Ghana proud at the time.
He announced that Awards bearing the names of the eleven outfield players of the Starlets '91' squad will be instituted for the best players that will be unearthed in the 'Airtel Rising Stars' soccer talent programme.
He further explained that the awards will epitomize the various positions from goalkeeper -Ben Owu Award to the eleventh position -Emmanuel Duah Award. The FA boss added that the whole Starlets '91' team will be honoured.
When the Black Starlets won FIFA's highest diadem at the Under-17 level, the then President of the nation, Flt. Lt. Jerry John Rawlings and then Sports Minister, Enoch Teye Mensah rewarded the individual players with stocks and bonds to the tune of 5 million old cedis.
The Ghana national U-17 football team has been a two-time FIFA U-17 World Cup Champions in 1991 and 1995, and a two-time Runner-up in 1993 and 1997. Ghana has participated in eight of the 12 World Cup events starting with their first in Scotland 1989, through dominating the competition in the 1990s.
At one-time, they qualified for four consecutive World Cup finals in Italia 1991, Japan 1993, Ecuador 1995 and Egypt 1997, to their most recent participation in South Korea 2007 where they lost the World Cup Semi final 1-2 to Spain in Extra Time.
The Ghana national U-17 football team has, however, failed to qualify for the last two tournaments of 2009 and 2011.
Some of the players who formed the history-making squad include Nii Odartey Lamptey, Samuel Osei Kuffuor, Dan Addo, Ben Owu, Isaac Asare, Emmanuel Duah, Sebatian Barnes, Kofi Nimo, Mohammed Gargo, Ali Jahraa and Mark Edusei among others.