Each country lives the same way they play the game...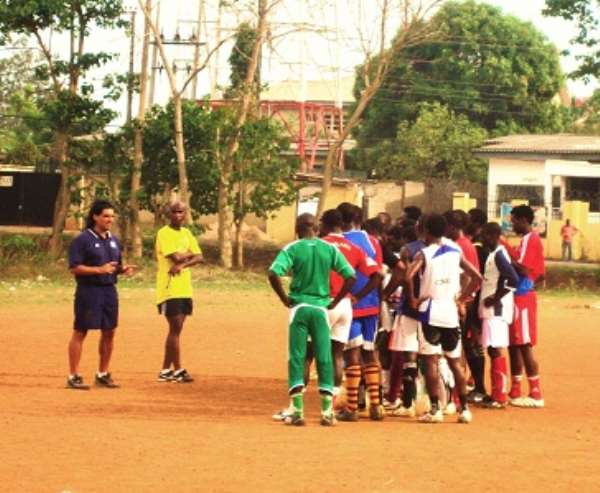 Coach Rodolfo Zapata is one of the 2010 most successful coaches in Africa. His unique ability to get entire groups of people and organizations to change behaviors quickly and achieve peak performance levels in a very short period of time is due to his high-impact approach.
In few months, Coach Rolo Zapata has transformed Sunshine Stars of Nigeria into a power team in the African Confederations Cup. His approach is one of high energy, intense and precise personal development and inspiration.
In part one of my interview with Rodolfo Zapata we talked about Nigerian and Argentine football and what they need in order to return to their past glories. In part two we spoke of his role with the United Nations as well as his coaching career in the US and how he sees the game progressing in this country. We also talked about his future in the coaching profession as well as any challenges he might have pending.
Juan Arango: Tell me a bit about your experience coaching in USA.
Rolo Zapata: It was a true challenge for me having to work in with people in a language and country very different than Argentina. I coached the United Nations International School (UNIS) and USA Olympic Development Program (ODP) that helped me to develop as a coach and as a human being. At first I had to adapt my training programs that I used in Argentina in order to fit in to how "soccer" is played in the US.
For example, the American, Argentine, and African footballer come different cultures. Based on this, their methods of training are different as well. In Argentina they are ultra competitive. In the US, players for the most part are not interested in playing professionally. They want to be able to get a college scholarship in order to be able to obtain an education.
In Africa they have that hunger to succeed. Their objective is to play in Europe and they work hard to obtain it. They are disciplined and that helps them invest in their future. Players wake up at 6 AM and are practicing under 98 degree heat by the time 9 AM rolls around, making it almost impossible to practice.
I have always said that a country lives the same way they play the game and play the same way they live. For example, Brazilians transmit their carnival-type joy when it comes time to step onto the pitch. Italy and Germany are countries that have lived through wars and they translate this feeling on the pitch as they play tactically every match and play to earn a result. In Asia, they run or ride on their bike through the streets of cities like Beijing, Tokyo or Seoul. Their teams play the same way. They run, sometimes to the point that they don't know where they are going.
African football represents their race to a tee. Despite the lack of resources, they are a very happy, fun-loving, respectful, and educated people. But they are highly disorganized and you can notice that in their national teams.
JA: How do you see football in the US?

RZ: In the States they say, "time is money". Life is a business and that is directly transmitting this sentiment to MLS.
Sometimes they make good business decisions, but most of the time they aren't. The league has to improve in many levels, but at the national team level they earned the respect of many around the world. They just now have to think about taking the next step in a World Cup.
In several businesses in stadium, they sell a t-shirt that says "Soccer is Life". Little do Americans realize that they are stating in very few words one great truth. The game represents life itself in each match. In the span of a match we experience happiness, sadness, justice, injustice, the good, the bad, and for those that believe in luck… we experience good and bad luck.
The only difference is that there is no second half in the game of life. There is only one in life and you have to enjoy it.
That is why I have to say that to my players that they have to give their all in life and in the game. I always challenge them to take on new challenges and try plays that seem to be impossible.
No don't like and don't believe in moral victories. It is not in my nature. You shouldn't be proud of losing. We should be proud of giving the best effort possible in an effort to win.
Football is a way of life. So beyond all the tactics and strategies in place, the players have an obligation with the fans.
JA: How did you feel when you were being considered to be coach of he Nigerian national team?
RZ: Obviously it made me very proud. The some of the goals I achieved with my team made me a candidate, but because of the legal problems between FIFA, the Nigerian FA, and the Nigerian court system made them opt for a domestic coach.
Knowing how the Nigerians work, surely they will hire a foreign coach if they qualify for the next World Cup.
JA: what do you think about the hiring of Samson Siasia as the new Nigerian coach?
RZ: He's a very good coach. He was in charge of the Olympic team and now he will have the chance to do so with the senior national team.
JA: Tell me about Rising Stars as well as the domestic league.
RZ: Sunshine Stars and second division side Rising Stars are two teams from Ondo State. The professional teams in Nigeria are run by the state governments. They are the primary owners or sponsors of the teams.
I signed a contract to be general manager with the government to coach Sunshine Stars FC and serve as Manager for Rising Stars as well as coordinate the youth programs.
Nigerian football exists basically on the sale of players to Europe. Many of them are transferred in the middle of the season. My job is to help in the development of the players.
I am convinced that you have to work towards improving their individual skills and exploiting their physical abilities to the max and obtain the best form possible.
JA: How do you see yourself in the near future as a coach? Do you see yourself earning a reputation as a coach? If you are, what do you think that reputation is?
Rolo Zapata: Everyone knows that a coach is measured by their results. That is the case both here in Nigeria as well as in Argentina and the rest of the world… except in the US.
Board Members and fans demand that you win. It's not an easy task and sometimes that prevents us from developing a particular football ideal in order to tend to more urgent matters.
I enjoy the challenge of building a winning team. We all want to be successful in our careers as well as in our personal lives. I want my players to have high standards. I want them to have high goals and objectives and have them work hard to achieve them.
JA: Tell me how your life has changed living in a country that is so different compared to Argentina.
RZ: One of the keys to be a coach is to be able to adapt quickly to different teams, players, organizations, countries, cultures, and economies. The experience of having coached abroad for 12 years has helped me bring perspective to my ideas.
JA: Would you consider coaching in Argentina once again?
RZ: Surely one day I'll have the chance. A few years ago I had several proposals to coach in my country, but I made thought gave a higher priority to me legal situation in the US.
Last year I obtained my American citizenship, and now I can assume long and short-term projects.
JA: Is there anything you might have pending as a coach?
RZ: My objective is to continue growing both personally and professionally. I am just messenger from the past that brings to the present everything that was relevant at one point and continues to be relevant today.
Juan Arango
www.simplyfutbol.com