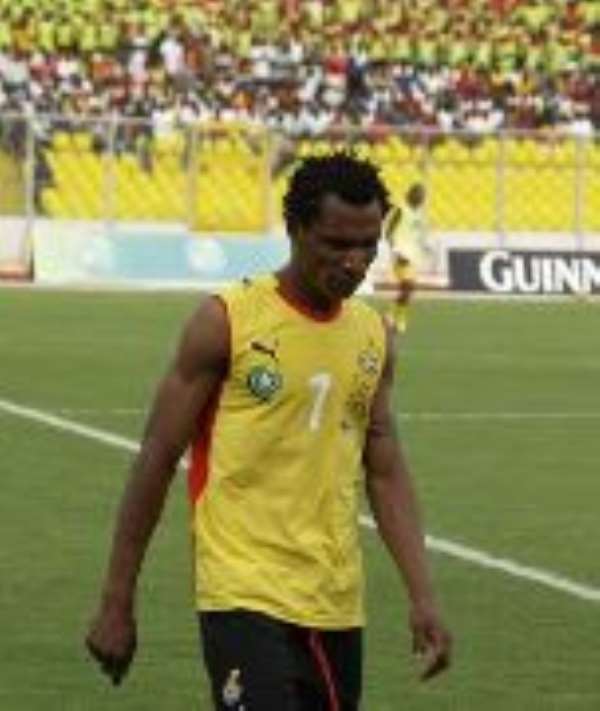 Yeboah wants to leave Israel Ghana's Israel-based striker Samuel Yeboah has been left in total shock after suffering a robbery while he was away playing for his club Hapoel Tel Aviv.
 
The forward only revealed the incident today after he returned home at 2:00 AM following his team's 1-0loss to Maccabi Haifa last week - a match which cost them the title.
Yeboah was shocked to discover that burglars had ransacked his house and made off with much of his belongings.  
"They stole $20,000 cash, and five cellular phones," the Ghanaian said.
"My clothes,my shoes, my electronics, everything, they just took everything. I can't explain it because only Hapoel Tel Aviv has a spare key and the only way they could have gotten all that out is through the door, not the window."  
The burglary was the last straw for the Ghanaian player, who has had a successful season leading his team in goal scoring despite his involvement in a number of disciplinary incidents.
 
Yeboah decided to voice feelings of loneliness and neglect he has until now kept to himself.  
"I'm alone in Israel for four months without my wife and kids," he said.
 
"Everyday I beg Hapoel Tel Aviv to help get them a visa and they tell me we'll talkabout it tomorrow. I am lonely here with no one to help me and Hapoel Tel Avivdoesn't care.
 
"How am I supposed to be a happy player if they don't even want to bring my family?I've been asking for a television stand from the start of the season and still haven't got anything."  
Have you spoken to anyone at Hapoel about it?  
"I asked to move to Tel Aviv and they told me I can't. I know that Elin Topuzakov and Dimitar Telkiyski live there with their families," he said, referring to two of Hapoel Tel Aviv's other foreign players, both from Bulgaria.
 
"Perhaps I'm not receiving the same conditions the others get because I am from Africa.Not one player has asked me to come have dinner with him on Friday or go for a coffee.
 
"I'm on good terms with Vincent Enyeama and Douglas de Silva [Hapoel Tel Aviv's other foreign players] but I'm largely ignored at Hapoel.
 
"I respect Hapoel and will continue to respect my contract with them but it's important for respect to be mutual."  
 
Yeboah had a rough patch even before his house was broken into. Without a doubt he has been pivotal to his club's success this season.
 
But in the past few rounds he has failed to score and been criticized for his performance by club officials.
 
A few months ago, management was enraged at him for failing to return to Israel from a visit to his native Ghana, as had been agreed, or informing them of his whereabouts.
 
When he returned he told the club that he could not contact them because he was participating in his mother's funeral.  
In light of Yeboah's importance to the club's success, the incident was eventually forgotten.