Essien is the real Guv'nor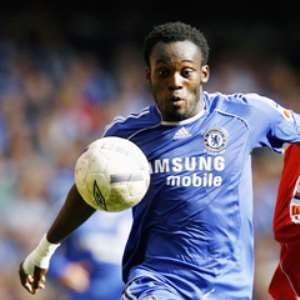 Steven Howard, the Sun's chief sports writer says Ghanaian midfielder Michael Essien is the powerhouse Chelsea sorely needed.
 
They call him the Bison in Ghana - and the Train in Stamford Bridge.
 
Which is further evidence his team-mates, who gave him the nickname because of his non-stop running, have not used this form of transport for years.
 
But there's no doubt Michael Essien is the new Guv'nor — though Paul Ince was the only one who believed he was the old one.
 
Essien's powerhouse display at Anfield on Wednesday proved just what Chelsea have been missing all season.
 
He totally negated the influence of Steven Gerrard and dominated a midfield zone in which Liverpool badly missed Javier Mascherano.
 
The match stats said it all. Not only was Essien's pass completion the highest at 85 per cent, but he restricted Gerrard to just TWO passes to Fernando Torres.
 
Chelsea have missed a dominating influence in front of the back four ever since Claude Makelele returned to France.
 
Yes, John Obi Mikel has played a lot of matches but his game has gone downhill.
 
So what a moment for Essien to return following the ligament damage that ruled him out from August to March. Essien, with Frank Lampard, has long been Chelsea's driving force.
 
He has played right-back, centre-half, holding midfield, attacking midfield — his best position — and even turned up on the right of a front three when re-appearing for his first start against Juventus in Turin.
 
He is the player Manchester United need, the controlling midfield force they have lacked since Roy Keane left.
 
Alex Ferguson wanted him in part-exchange for Ruud van Nistelrooy but missed out when Jose Mourinho, who had been trailing Essien's Lyon team-mate Mahamadou Diarra, switched to Essien when Diarra joined Real Madrid.
 
What a miss by Ferguson, now overloaded with strikers and no one to win the ball in midfield.
 
Essien's commanding presence at Anfield allowed Chelsea to take the game to Liverpool after Torres gave the Reds the lead.
 
As we had seen with Porto at Old Trafford the day before, fortune favours the brave away from home in Europe.
 
Ironically enough, it was Mourinho who said that Old Trafford had been turned into a fortress as English clubs were too timid when they went there.
 
This was, of course, before Liverpool took the bull by the horns last month. Yet it was Mourinho's own negativity that saw Chelsea stumble in the latter stages of the Champions League.
 
Guus Hiddink has turned that on its head. A man who loves to take the game to the opposition — as he showed with PSV, South Korea and Russia — he let loose the dogs of war at Anfield. None more than Didier Drogba, who did what he always does to Liverpool — scared them to death.
 
Much has been made of the fact that no team has retained the Champions League, how the volume of games always catches up with them.
 
But what of beaten finalists, like Chelsea, landing the trophy the following season?
AC Milan lost to Marseille in 1993 but a year later beat Barcelona 4-0.
 
With the Train taking the strain, even the new Barca could be shunted into the sidings.
 
Source: Steven Howard, the Sun's Chief sports writer