Muntari threatens to quit Ghana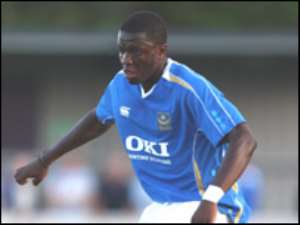 Muntari says he girl was beaten up Ghana midfielder Sulley Muntari has threatened to quit the Black Stars if the authorities do not apologise his girlfriend.
Menaye Donkor claims she was assaulted by a policeman at the Baba Yara Stadium on Sunday as she attempted to enter the dressing room area after the World Cup qualifier against Benin in Kumasi.
 
The Inter Milan player is furious over the incident and has openly asked the Police Servie and chairman of the Ghana Football Association (GFA) to apologise to Miss Donkor.
 
Several eyewitnesses confirmed the incident to Ghanasoccernet saying the Inter Milan enforcer spoke openly about his intentions of leaving the Black Stars over the incident.
 
But the spokesman for the GFA has denied that Muntari demanded an apology from the authorities saying the police must be professional.
 
Abbey told Citi FM: "It's not true. I was with the President and I didn't hear Sulley say that.
 
"Sulley was asking us to do something about the incident that the lady had been assaulted.
 
"We just need to constantly impress upon the leadership of the security to ask their men to be more professional in handling some of these issues."
 
Even though there are claims that the security officers were unprofessional, a policeman who was close to the incident spoke to Ghanasoccernet on condition of anonymity.
 
"We cannot allow anybody to enter any place in the stadium just because they are a boyfriend or girlfriend of place," the policeman said.
 
"Th person must have the right entry permit otherwise we wouldnt be doing our job  and if something bad happens we will be blamed.
 
"Sometimes these people must be humble. She was not humble and was insulting the officer when he said he wanted to see her entry permit."
  Meanwhile, Miss Donkor has received a vitriolic tongue lashing from fans of the Black Stars for her constant presence around the national team.
 
The fans claim she is regularly spotted in the team hotel before and after national team matches, which has drawn the ire of the Ghanaian public.
 
Kojo Gyasi an ardent Black Stars fan told Ghanasoccernet: "If Muntari can't control his girl then someone has to do it.
 
"No player's wife or girlfriend comes to the team hotel and struts around like this girl does. She is not doing herself any favours. Someone must talk to her."
 
This is not the first time Muntari has threatened to quit the national team.
 
He made his first threat after he was expelled from the Olympic Games in 2004 for indiscipline at the Black Meteors camp but he later rescinded his decision.