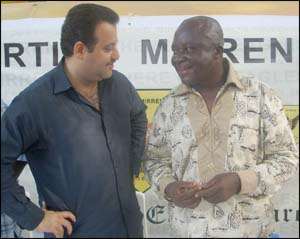 Mr Afranie and Fadi Fattal Coach E.K. Afranie has finally been outdoored as the new head coach of struggling Sporting Mirren with his immediate task being taking the club out of the relegation zone.
The former Black Starlet coach who has had stints with almost all the top clubs in the country including Hearts and Kotoko, has also coached all the national teams.
The coach indicated his readiness to produce stars from the team.
 He however appealed to management and all stakeholders to put their hands on deck to revive the lost fortunes of the club.
"It is unfair to criticize a coach for only one match. There are external factors that go against the team, for instance poor officiating and others, hence there is the need to give a coach sometime to warm himself into the game."
The coach spoke highly of Optimum Media Prime (OMP), owners of the club, saying, "This is the first time that I have been outdoored to the public. Neither Kotoko nor Hearts did this."
 Fadi Fatal, Managing Director of Sporting Mirren, was confident Coach Afranie will take the team out of the relegation zone and place them in a better position by the end of the league season.
He expressed support from his outfit so as to enable the team excel in the tough Glo Premier League.
Sporting Mirren currently lie second from bottom in the 16 club premier league.
By Charles Nixon Yeboah