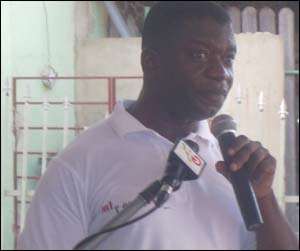 Mr. Kwame Baah AS PART of efforts to train local athletes in the Western Region and beyond to participate in international long distance and marathon events, Kyzz FM, a Takoradi-based private radio station last Friday launched an event dubbed, "The Twin-City Marathon".
The event which is the first of its kind in the region, would give interested athletes from the Western region and other areas the opportunity to exhibit their prowess in long distance running.
The marathon which comes off on Saturday August 29, 2009, is expected to attract over 5,000 participants from the Western and other regions.
Alfred Kwame Baah, Chief Executive Officer (CEO) of Kyzz FM who disclosed this at the launch of the event, indicated that it is disheartening that the region which abounds with natural talents hardly has its athletes participating in international events.
He said it is against this backdrop that the radio station, in collaboration with other stakeholders, is organizing the event which would be an annual affair, to groom runners from the region to compete in international events.
The CEO of Kyzz FM appealed to corporate entities and other individuals to help in the sponsorship of the programme to make the first ever Twin-City Marathon a success.
Samuel Oppong, the event supervisor, explained that the race would be in four categories.
He said the first category which would be the marathon, would cover 42.195 km and commence at the T-Poly Park through Essipon to the Jubilee Park while the second category, a 10 kilometer race, would start from Anaji Estate through Effiakuma, Bankyease, Takoradi and finish at the Jubilee Park.
With regard to the third category, which would be a 15-km race, the starting point is Kansaworodo School Park through Anaji, Effiakuma, Bankyease, Takoradi with the Jubilee Park as its finishing point.
It was also made known that the last category which is a five-km race is scheduled to start from the Kwesimintsim Police Station through Takoradi and finish at the Jubilee Park.
Mr. Oppong said the safety of all the runners is assured since medical personnel would be available to check on the conditions of the athletes and advise management of the event accordingly.
He recommended that the runners should go for medical examination to determine their fitness level, choose good running shoes and start training weeks before the day for the marathon.
He disclosed that there would be prizes for athletes who excel on the day and that proceeds from the event would be presented to the poor and needy in society.
From Emmanuel Opoku, Takoradi