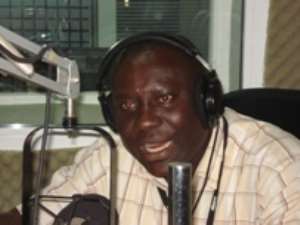 ODOTEI HAS THE MAGIC WAND Newly appointed Chief Executive of King Faisal, Vincent Odotei Sowah, wants to make amends at the club after an acrimonious tenure at Hearts of Oak.
Sowah was pressured to quit his post at Hearts after a frosty relationship with the club's supporters and some members of the board.
He confident his managerial plan can propel the club to become a third force in Ghana Football.
" King Faizal is a different strategic plan. We're now trying to improve on the brand. It's what I will call a mid-table club with a lot of potentials," Odotei told Ghanasoccernet.com
" So the vision i have with the club is to make it one of the biggest in the country and probably on the African continent through modern management practices, good employees-player satisfaction, good entertaining football.
" At the end of the day we try to make some return on the investment made. With King Faisal, I know where I stand- you know where the line of authority is with- you know where the lines are, where the channel of communication is with.
" You have a latitude to put whatever plans you have in place."
King Faisal placed sixth last term after a bad start to the season.
For more Ghana football news visit www.ghanasoccernet.com