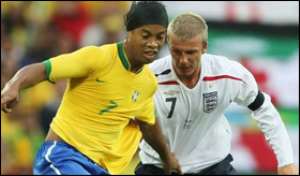 Ronaldinho has spoken with enthusiasm about David Beckham's impending arrival in Milan and has even offered to share free-kick duties with the England star. The Italian giants have confirmed a deal has been struck with MLS outfit LA Galaxy to take the midfielder on loan in January.
Beckham has been encouraged to make the switch to Serie A by England coach and former Milan incumbent Fabio Capello; keen as he is to see the 33-year-old keep up his fitness levels in the American close-season.
In joining Milan he will share the bill with a number of football's biggest names and one such star, Ronaldinho, is already looking forward to striking up a partnership.
"He's a great champion. I hope he's happy with us. We'll take turns taking free-kicks," Ronaldinho told La Gazzetta dello Sport.
"I've met him in the past and I have always been struck by his class."
While Beckham is not to join Milan officially until 7th January it is being reported in Italian media that he will be presented to the club's fans before the Udinese game on 21st December, before taking part in a Dubai training camp during Serie A's Christmas break.
There has been no official line on the exact length of the loan period but Milan president Adriano Galliani has again ruled out making the move a permanent arrangement.
"No one has spoken of a permanent transfer. The hypothesis is not possible because he has a contract with Galaxy, who don't want to let him go," he said.
"I hope it's a painful goodbye (at the end of the loan) because that would mean he's done well."