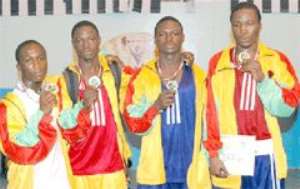 Four more members of the Black Bombers have qualified for the upcoming Olympic Games in China.

Bastie Samir, Issah Samir, Samuel Kotey Neequaye and Prince Octopus Dzanie sealed their qualification at the final African qualifier for the games staged in Namibia last week.
The four now join light flyweight Manyo Plange and middleweight Ahmed Saraku who qualified from a similar championship in Algeria on Ghana's ticket for Beijing.

Team captain, Bastie Samir, a light heavyweight and his younger brother, Issah, a bantamweight, each won gold, light welterweight Samuel Kotey Neequaye settled for silver, while Octopus Dzanie took bronze.

Their qualification also makes true Coach Roberto Ibanez Chavez's earlier prediction that three or four more boxers will book places for the Olympic Games from the Namibia qualifiers.

In a telephone interview from their Safari Hotel base in Namibia, an elated captain Bastie Samir said this was a dream come true.
"My colleagues and I kept our focus and took each fight as it came. I just knew that I could make it from my first fight in which I knocked out my Namibian opponent in the first round. We thank all Ghanaians for supporting us with their prayers," he said.

In his second fight, Bastie won on points against Izebo Dauda, a Nigerian, and in the final he knocked out Kenya's Aziz Ali in round two to seal his Olympic ticket.

On his way to Olympic qualification, Issah Samir defeated Ethiopia's Belachexi Damofa, Thomas Kasina of Kenya, Aldina Muzeyi of Uganda and finally Louis Bruno of Kenya.

To snatch a silver, Samuel Kotey Neequaye also made victims of Nigel Benoit of Seychelles Island, Sibonela Ndzimaneze Chester of Swaziland, Malawi's Dikorimana Morris and Louis Ricardo of Mauritius.

Prince 'Octopus' Dzanie defeated Ethiopia's Anteddicha Giruhessi and Togo's Rafiu Joseph, but lost to Kenya's Nicholas Okongo. Dzanie, however, made up for the loss and defeated South African Ashley Dlamini in the third place bout to seal his Olympic place.

Speaking to the Graphic Sports, in another interview, Assistant Coach Ofori Asare said the level of conditioning of the boxers after their training at Winneba and the Ohene Djan Stadium gave him a firm belief that about four boxers could qualify.

"I prepared the boxers for the Algeria qualifier, and their response and rapid grasping of the techniques just gave me a lot of hope," he said.

Meanwhile, Frederick Lawson, Habib Ahmed, Commonwealth bronze medalist, Awusone Yekini, Annan Ampiah and Osumanu Haruna failed to qualify.

The team is expected back home today.

Story by Nathaniel Attoh