Antwi's Baptism Of Fire • Le Roy Blames Everything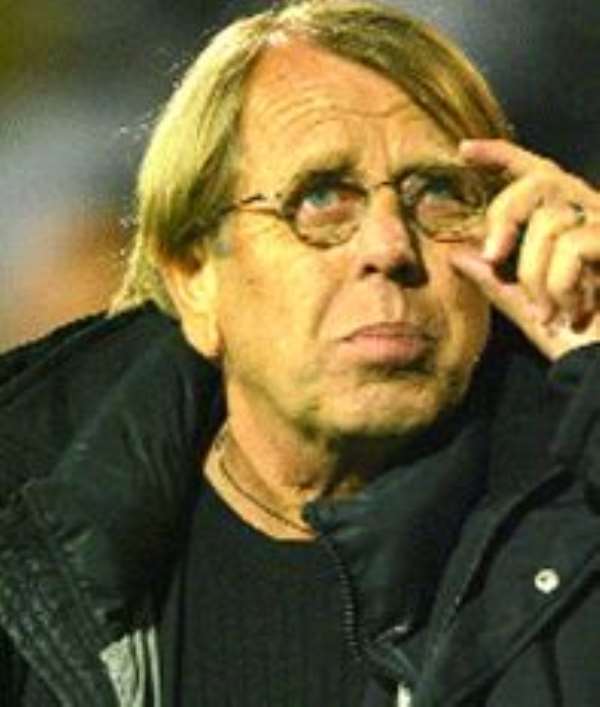 He bubbled with absolute confidence as he jogged onto the field as a substitute, but goalkeeper Patrick Antwi was soon to burst in a disastrous Black Stars debut.
A costly error by him 32 minutes after his entry enabled Mexico to claw back a deficit in a friendly match that Ghana eventually lost 2-1 in London last Wednesday night.

Antwi's fumble with a Michael Essien back pass gave Mexico the chance for the equaliser after 77 minutes, and with jittery nerves the goalkeeper remained a gaping hole waiting to be exploited until the Mexican snatched the winner from the spot with three minutes left.

It was an embarrassing outing for the Liberty Professionals player who stepped in for regular deputy, Fatau Dauda, after the Ashantigold player was unable to secure travelling permit on time for the trip to London.

For a moment Fatau's absence might have appeared divinely made as Coach Claude Le Roy revised his tactics to allow back-up goalkeepers to play at least as substitutes.
 
But that decision, coming after former first choice, Sammy Adjei, had quit the national team over his pain of being ignored by the coach, seemed untimely.

Antwi's general posturing at the Craven Cottage may have left few in doubt of the imminent trouble as Mexico missed glorious chances, including Baptista's 68th minute free header over the bar, with the goalkeeper displaced.

But the tragic moment was near for the goalkeeper and Ghana as Essien, just like he freed himself on 54 minutes before striking for the opener from more than 25 metres, walked the ball towards his penalty area with absolute control only to deliver the pass that would embarrass Antwi and cost Ghana the lead.

Indeed, the full international debut for the former Black Meteors goalkeeper had delayed for three years after a late intervention by higher authority meant the goalkeeper would have to sit out of Ghana's World Cup qualifier against South Africa in Johannesburg in 2005.

On that occasion, injury to Sammy Adjei and a reported malaria attack on second choice Sannie Mohammed had placed the job in the hands of Antwi. But a quick review of the team's strength forced officials to fly George Owu from Ghana to Johannesburg where Ghana beat the host 2-0.

And on Wednesday night, his output overshadowed everything else in what had been billed Ghana's revenge mission, having lost 1-0 to the same side in the United States in March 2006.

Antwi had entered for Richard Kingson alongside Andre Dede Ayew and Quincy Owusu Abeyie, and the Stars had wielded some control of affairs leading to Essien's great goal.

But the Mexicans were in full control thereafter and created chances at will with the Stars defence struggling to contain their opponents' fast pace.

Indeed, the Mexicans were unlucky not to have scored in the first half when Skipper John Mensah's timely clearance kept the scores barren at 44 minutes with Kingson beaten.

Story by Michael Quaye