Anthony Yeboah - I Followed My Dreams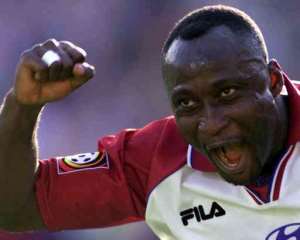 For most young people their inability to overcome a difficult obstacle, such as poor academic performance or the lack of financial support to pursue educational dreams, may mean an end to an otherwise bright future. Unfortunately, such people often fail to explore their God-given talents to their advantage, rather choosing to resign themselves to fate.
One person who did not give up, even when he felt all doors were shut in his life and, therefore, faced a lot of difficulties, is the former Ghanaian international footballer, Anthony Yeboah.
Tony Yeboah, as he is popularly called, ended his education after middle school, first because there was no money and partly because he did not perform well in school.
"It worried me that I was not good academically, but there was nothing I could do. Maybe I was not cut out for academic work and that was why God made me such a good footballer. Everybody has a talent and perhaps if I had forced myself to pursue an academic career, I wouldn't have been where I am now," he noted.
Tony Yeboah, whose success as a footballer started from the colts to club, national and international levels, therefore, urged children to endeavour to attend school but said they should never give up on their talents.
Recounting his childhood story to the Junior Graphic at his Yegoala Hotel, Tony said he came from a very poor family and paying his school fees sometimes became a problem because of the number of children his parents had."We were nine children and my mother tried to give all of us good education. But my father's salary could not take care of all of us," he said.
"At the beginning, I was very angry with my father for not paying my school fees on time but I later realised it was not his fault; he simply could not cope," he disclosed.
Luckily for Young Tony, he had a scholarship as a result of his skills in football and that enabled him to continue from Class Four to middle school.
Tony, who discovered his passion for football very early, said he used to sneak out of school to play football because he could not afford to miss it.
"Sometimes I even pretended to be sick and asked permission from my teacher, only to go and play football," he said.
On a number of occasions he was caught playing football when he was expected to be in school. "I was beaten but that did not stop me because when I love something, it did not matter what you did to me," he recalled, noting that even when he was in class, he only looked forward to the bell ringing so that he would have the chance to play football.
Young Tony often went home late from school and sometimes spent two or three days away from home without his parents permission, just to play football. According to him, whenever he stayed away from home he spent the night with his manager, a practice which always got his parents angry.
Tony was born at New Tafo Krofrom in the Ashanti Region. As a child, his duty then was to fetch water every morning before going to school. He said he used to walk about three kilometres to his school at New Tafo L/A and spent his vacations with his grandmother in the village. During such visits, he helped her on the farm.
Tony completed State Boys' Middle School, a prestigious school in Kumasi. When he decided to be a footballer at the age of 15, his family did not approve of it because at that time nobody had become successful from playing football. Another reason was also that his parents were Jehovah's Witnesses and, therefore, did not approve of his passion.He started his career as a footballer with clubs such as the Kotoko youth side, Ossa, Neoplan Stars, Cornerstone and Okwahu United. He later became the 1986 top Ghanaian goal scorer.
By dint of hard work, he was invited to join the national team when he was 18, but it took him two years before he had the chance to play. According to him, at that time there were a lot of very good players like Abdul Razak in the team so it took one some time to have a chance to play.
He said he used to wash the jerseys of his senior colleagues and polish their boots just to get along well with them.The first time Tony played for the national team, he came in as a substitute and, therefore, he resolved to prove himself on the field. And, truly, he did so well that after that match he featured regularly in the team.
He started his international career in 1988 and played for teams like Saarbruken, Frankfurt, Hamburg, all in Germany, Leeds United in England and then Al-Ittihad in Qatar, where he retired from football in 2004.
While playing for the Black Stars, he acted as captain in the absence of the substantive captain, Abedi Pele.Tony Yeboah, who turns 42 in June, is married to Tarsha Yeboah. They have four children. He owns the Yegoala Hotels at Dansoman and in Kumasi and plans to open more hotels in other regions of the country.
Story by Augustina Tawiah