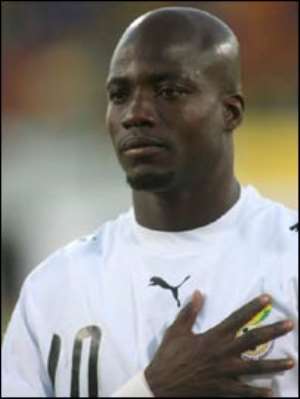 Appiah wants to use his brand to raise money for charity
Ghana captain Stephen Appiah will be the first African player to come out with a clothing range when his brand is launched next week in Accra.
The Turkey-based midfielder will unveil his StepApp new range of clothes in the Ghanaian capital on Monday.
The Fenerbahce icon is coming out with his clothing range to help expand the activities of his charity for the needy across the African continent.
The 26-year-old, who helped design some of the products, says part of the proceeds will go to financing activities of his charity, the StepApp Foundation.
"In the past I have personally financed the StepApp Foundation and I want to expand the activities to reach many more people in Africa," Appiah said.
"So I decided to use my passion for fashion to design clothes so that the proceeds can be used to expand the activities of the StepApp Foundation.
"I want to help create the kind of clothes which I would want to wear and for everybody to admire."
Appiah's collection will feature T-shirts, shoes, wallets and purses before expanding to bags, jeans and jackets next year.
Appiah, who is one of the best-known faces in African football, hopes his clothes will appeal to all ages across the continent.
The products will initially go on sale in Ghana, Nigeria, South Africa and the rest of Africa before reaching Europe and the United States next month.
Players like David Beckham and Freddie Ljungberg earn top dollar, not just as professional footballers but as the faces of designer brands.
But Appiah is the first African player to venture into fashion alongside his football career.