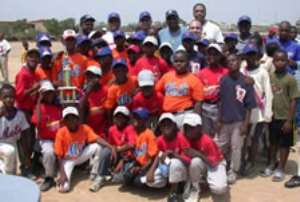 The national baseball team, the Rising Stars returned Monday evening from Ilorin, Nigeria after playing in the Africa Zone 3 Olympic qualifying tournament.
The team after beating Togo and Benin, lost to the host nation Nigeria to qualify for the next stage of the qualifiers.
The team will join Nigeria, the winners of the tournament to South Africa in December 2007 for the continental qualifying tournament.
The only obstacle to the team's potential to shine is lack of adequate funds.
President of the Ghana Baseball and Softball Association (GHABSA), Rev. Albert Ocran, says he is hopeful that the team will be able to attract the necessary sponsorship to enable them make it to the qualifiers and subsequently to the Beijing Olympic Games.