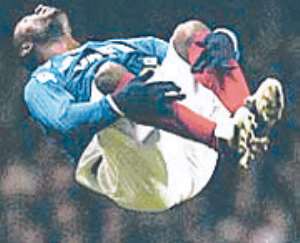 As fans celebrate a goal, so do players. For many years, celebrations were no more flamboyant than a simple punch of the air and a hug from a teammate.
All that changed in the 1980s and 1990s, partly thanks to the acrobatic backflips and handsprings of Mexican striker, Hugo Sanchez.
Since then, players have rocked imaginary babies, danced the conga and pulled off spectacular gymnastic moves. Nigerian international, Julius Ashahowa, for example, is famous for performing six or seven backflips in a row.
Referees can penalise teams for time-wasting through long celebrations, and authorities often take action against players who stir up opposition fans with rude or provocative gestures.
Goalscoring records
All-time leading goalscorers
Artur Friedenreich (Brazil) 1,329 goals (1909 –39)
Pele (Brazil) 1,281 goals (1956-77)
Franz Binder (Germany) 1,006 goals (1930-50)
Most International Goals
104 – Ali Daei (Iran), 1993-May 2005
Most goals in one International Match
13 – Archie Thompson (Australia), 2001
Fastest International Goal
8 seconds – Davide Gualtieri
(San Marino) against England, 1993
Fastest Goal
2.8 seconds – Ricardo Olivera
(Argentina) for Rio Negro, 1998
Fastest Own Goal
8 seconds – Pat Kruse (England),
playing for Torquay United, 1977