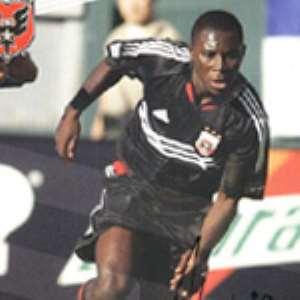 He is good at golf and great at soccer. He is an Ambassador for the World Food Program. He is also on the list of the world's youngest super star talents and his name is a household brand in America. Make no mistake about it; as young as he is, if Freddy Koranteng Adu endorses a product, it sells.
So confirmation of his long awaited homecoming to Ghana has been met with excitement and given extra special spice by American sportswear giants NIKE. By the way Nike signed an endorsement deal with Freddy for a cool 1 million dollars (When he was still only 14 years old) To date, the Nike deal is the biggest package for a soccer player in the US.
The signs were on the wall when at just 13 years old, Freddy Koranteng Adu's mother was offered $750,000 to sign for Italian Serie-A giants Inter Milan.
The response was a firm but polite NO! It is fair to say that mother who rejects that sort of money must have big plans and even bigger faith in her son!
Fast forward to 2007 and that decision by Mrs Emelia Adu seems like just another small episode in the incredible story that continues to grip the American soccer and media scene.

So should the Ghanaian media be excited about Freddy's Homecoming? You bet they should.
The fact remains that where ever Freddy goes, the Nike brand follows and that could open countless doors to countless individuals and teams, sports associations and communities.
Nike is the world's number one sports brand and their knack for spotting greatness from afar is legendary.
If anyone needed reminding or disputes this fact, just ask two people Tiger Woods and Michael Jordan.
FAMILY OF STARS
When Freddy sweeps into town later in the year, he will be accompanied by his mother and younger brother Fro Akoto Adu who himself is a hot soccer talent just waiting to be unleashed on the world.
Having one super star son must be thrilling but potentially TWO? The reaction of Emelia Adu is just a smile and "….well Fro is still in college so we would have to wait and see what happens when he graduates"

With such a response it is hardly surprising that a day goes by without the mention of "…..my mom…"
from the lips of Freddy and Fro Akoto. Whether it is a press conference, a social gathering or a charity event, the Adu brothers always honour their devoted and loving mother. After all she decided to sacrifice everything for her children and is reaping from her sweat and toil.
But who is this lady that has instilled so much character, respect and adoration into her boys?
It is no puzzle because the answer to that is quite simple. Emelia Adu is just like any other mother who wants the best for her children and even now with so many offers being literally thrown at Freddy, she remains content in the shadows and behind the scenes looking out for the unexpected.
" I don't like to talk about myself because I am just doing what I think is right and you know it is a very tough and demanding profession Freddy has chosen"
She may not like it but one thing is for certain, she is seen as the super mom who has carefully moulded and guided America's hottest and youngest sports talent in recent times.
In Ghana, the Freddy mania is offshore and has yet to hit the coast, but like most things in the peaceful West African Republic, it takes time to gather momentum.
Yet word is spreading across the country and indeed throughout Africa that the young sensation is coming back home and even before he arrives, his sponsors Nike are already paving the way for him.
GENEROUS NATURE
This is not new territory to Freddy who is already a media gem and maturing like palm wine with each passing day.
When he was 16, the World Food Program asked his mother to use his considerable fame to draw attention to the plight of children who haven't managed to escape poverty the way he has.
He recorded a Public Service Announcement for WFP in which he called for support for the fight to end hunger, which kills a child every five seconds.
Giving something back to society is not a PR tool but a genuine urge and desire of Freddy according to his mother."
The bottom line is that Freddy cares and he knows that God has blessed him so what ever he decides to give back is from the bottom of his heart " Clearly
Mrs Emelia Adu is not just a proud and devoted mother but also the brainchild of the donation by Nike.
But the story behind the donation is just as fascinating.
INSPIRATION
"I was just strolling in my neighbourhood on one of my visits back home to Ghana when i came accross these young kids playing soccer....i stopped by to watch them and the similarities between them and my Freddy was not much different.
Infact she was moved and felt the need to just say something to inspire the kids. What did she say? Well that is obvious "Hello i am Freddy Adu's mother...."
The rest as they say is history" In truth, Mrs Emelia Adu sent an email and then made a phone call to NIKE in America to ask ask if they could sponsor the team.She got an immediate YES!
According to Mrs Adu, it is characteristic of the social responsibilty theme that runs through the sports wear giants vision. "Nike really cares and they have shown that in so many ways over the years not just to Freddy and kids like him but through major community and national projects".
Today it may seem like a small gesture to a little request but who knows, this could just be the most significant seed Nike has planted in Africa.
It all adds up since Freddy has been planning a trip to Ghana and also because he is so passionate about helping less privileged youngsters. Although so much has been written and said about Freddy there are still alot of Ghanaian youngsters who crave for more.
So what about the other Adu? Well according to most US sports and soccer analysts, Jnr Adu, (Fro Akoto) is also an exciting talent for the future. Whilles Freddy is an exciting and skillful forward, Fro plies his soccer talent as a solid defender.
It is only a matter of time before the worldheralds the arrival of Fro Akoto Adu. Meanwhile, after turning 18 a few weeks ago Freddy pledged to continue his personal campaign to help less privileged children in the society.
EARLY YEARS
Born in Ghana in 1989, Freddy Adu hit the headlines at the tender age of 10, when Italian soccer giants Inter Milan spotted his talent and made a six-figure offer for him that was turned down by his mother.
He went on to make his professional debut in US Major League Soccer at just 14, and now plays for the United States Under-20 national side.
Adu grew up in the port city of Tema in Ghana, where he played football barefoot against men three times his age.
When he was eight, his mother won an immigration lottery, and he and his family moved to Washington D.C.
Adu became a U.S. citizen in 2003, when he was already the most talked-about player in American soccer history.
For more facts on Freddy visit: www.myghanafootball.com
HOT FACT
Adu became the youngest-ever member of a U.S. national soccer team when he made his debut for the Under-17 side at the age of 13.