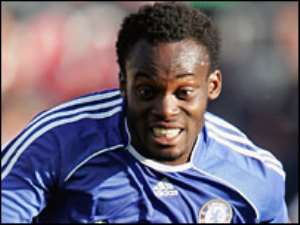 Manchester United have clinched their first Premiership title since 2003 following Chelsea's 1-1 draw against Arsenal at the Emirates Stadium.The result sees United, who have now won the Premiership a record nine times, seven points clear at the top of the table with only two games left.
Boss Sir Alex Ferguson said: "It's a fantastic day for the club and fans."
"There was an emphasis on the league and the key was our good start. Once we made that, we never lost it."
Ferguson added: "The Premier League is such a competitive league and the focus and the pressure on the big clubs makes it a focus for us.
"I used to have an obsession of winning in Europe but the Premiership has become a priority."
The United boss, 65, said his side's superb start to the season and the attitude of his players were the vital factors in their success.
"Once we got the lead it was always hard to dislodge us," he said.
"The crucial part was the resilience of the players when we got injuries. We don't have as big a squad as Chelsea but we dug in and I have to take my hat off to those players.
"Credit to the players, who dug in every week for us. It has been a fantastic effort by them."
United's first game as champions sees them face Chelsea, Premiership winners in each of the previous two seasons, at Stamford Bridge on Wednesday.