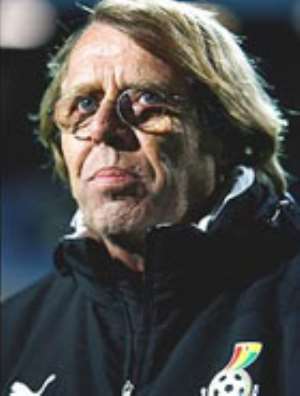 Ghanaian teenage prodigy Ekow Benson has started trials with French side Rennes.The 17-year-old, who plays for the local side Tema Youth, was invited by the Ligue 1 side just five days after making his debut for the Black Stars.
Rennes are thought to be keen to arrange a match behind closed doors at some point during Benson's two-week stay.
Benson was one of five debutantes who played in Ghana's 1-0 loss to Brazil in a friendly in Stockholm.
Ghana coach Claude Le Roy invited the talented midfielder for the Stockholm game after spotting him during a local league match.
The game against Brazil was Benson's first trip outside the West African country and Le Roy is not surprised how the teenager conducted himself.
"We had to prepare his travel documents in great haste because he has never been outside Ghana," Le Roy told BBC Sport.
"He did not know what was happening to him just before the game against Brazil.
"While we were warming-up for the game he was not concentrating on what our team was doing.
"He couldn't stop looking at the Brazilian star Ronaldinho throughout the entire session.
"After the game he was so happy to have played some few minutes and I know this is a start of a great future for Benson."
Midfielders Anthony Annan, Bernard Yao Kumordzi, Michael Helegbe and defender Alfred Arthur were promoted to the Black Stars from the Olympic team, with Benson coming from the under-17 side.
Le Roy says many of the youngsters will feature prominently his future plans.