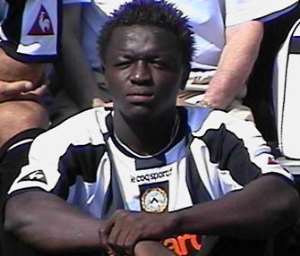 Player to Watch: Muntari dreaming of Germany What do Ghana's almost certain qualification for the 2006 FIFA World Cup Germany™ and Udinese's first ever participation in the UEFA Champions League have in common? Ghanaian football fanatics all know the answer, as do supporters of the Italian club, and the rest of the world will surely catch on next summer: Sulley Ali Muntari.
Renowned for producing a steady stream of young talent, Ghana has often seen its best players fail to live up to expectations in years gone by, and men like Abedi Pele, Antony Yeboah and Nii Lamptey never experienced the joy of gracing a FIFA World Cup tournament. So it was entirely reasonable to suspect that the current crop of Ghanaian prodigies incarnated by Sulley Ali Muntari would fall short when the tickets for Germany were being decided.
Not so, not this time, and if Ghana are practically assured of taking part in the festivities for the first time in their history, it has neither been due to a deadly forward line nor a cast-iron defence. True, the Black Stars are solid enough in all areas, but what has most impressed opponents and observers alike is their tireless midfield. And at just 21 years of age, Sulley Ali Muntari is already a key piece in the jigsaw. Alongside Michael Essien and Stephen Appiah, the young Udinese starlet forms one-third of a stunning trio that many coaches would dream of having, and which has given many more a few nightmares. Muntari's abilities first came to light in youth tournaments, while he was playing for Liberty Professionals in Accra. As a raw 16-year-old, he was already an integral member of Ghana's U-20 team as they finished runners-up at the 2001 FIFA World Youth Championship in Argentina, losing out to the hosts in the final. Starting every match in defence, the youngster crossed paths with – and eliminated – future stars of the calibre of Adriano, Kaka, Julio Baptista and Djibril Cisse.
The touch of Kaka, the combativeness of Davids Those performances seduced scouts from Europe looking for the next big thing, and, despite impressing during a trial with Manchester United, he was soon packing his bags for Udinese. His first season was spent in the reserves, but his chance to shine was on its way and finally came at the San Siro on 6 November 2002, when he made his debut appearance against AC Milan of all teams. The Rossoneri proved too strong on the day, yet Udinese's young newcomer left an instant impression. "Muntari was immense against Milan," enthused monthly magazine Football Italia, "showing himself to possess the touch of Kaka and the combativeness of Edgar Davids, he is definitely a player to keep a close eye on."
Elevation to Ghana's senior squad came next, and Muntari won his first cap against Burkina Faso in June 2004 as the Black Stars opened their 2006 FIFA World Cup qualifying campaign. Once again, his debut was to coincide with a defeat, but the team have not lost since then and Muntari demonstrated he has what it takes at international level with the opening goal in their very next outing - a 3-0 victory over South Africa.
The native of Konongo was still only 20 at the time, and it made sense for him to further his education by turning out for Ghana's Olympic side, the Black Meteors, at Athens 2004. The initiative quickly backfired, however, when the player considered as the 'child prodigy' of Ghanaian football was sent home for disciplinary reasons. And it turned out to be the start of an unseemly squabble between Muntari and his federation, with the former protesting his innocence and the latter demanding an apology. The Udinese ace even went as far as refusing to play for his country again, beating the record for the youngest international retirement. But he could not keep himself away forever, and after making a public apology to the federation he was welcomed back with open arms last November. "I'm ready to serve my country at any time," he declared, full of repentance. "Ghana made me what I am today. How could I turn my back on the nation?"
It was a wise move and, by the end of the 2004/05 season, Muntari had come to enjoy memorable successes with both club and country. Indeed, thanks to three wins and two draws in the five games he has disputed since returning, the 'Brazilians of Africa' now lead Group 2 ahead of Congo DR. As a result, and with one qualifier left to play, they are virtually guaranteed a place in Germany next summer. Along with his team-mates and an entire nation, the powerful midfielder is now gearing himself up to celebrate a historic first qualification for the global showcase.
Likewise, the last 12 months could hardly have worked out better for Muntari at Udinese. As an undisputed starter for the Stadio Friuli outfit (33 matches, two goals) under then coach Luciano Spaletti, he emerged as the lungs of the team, combining a resolute defensive work-rate with pinpoint passes to the more attacking players. And while Vincenzo Iaquinta and Antonio Di Natale fired in the goals, Sulley Muntari consistently weighed in with performances of the highest level that ultimately sealed the club a fourth-place finish in Serie A. Not only was it Udinese's best-ever position, it also opened the door for their very first participation in the UEFA Champions League.
Unsurprisingly, the continent's big guns all took note, and while Juventus supporters see Muntari as the natural successor to Edgar Davids and Antonio Conte, Sir Alex Ferguson has not abandoned the idea of taking him to Old Trafford. "I've heard the rumours about Manchester United and other teams, but I'm at the right club for me at the moment," he insists. "I'm young and I've still got time to join a big side. For now, though, my ambitions are here with Udinese." As if to prove how much his constant progress is tied up with his current employers, Muntari has begun this season in the same explosive form with which he finished the last. In fact, he has even managed to add another string to his bow, maintaining his determination, power and tenacity while developing a knack for netting goals. And with three strikes in five games, he is already one of the leading scorers in Serie A.
Having conquered Italy is just one half of the equation, though. Showing Planet Football what he is capable of when the Black Stars finally touch down on German soil will be the greatest challenge of his career, and who is to say he will not upstage Adriano and Kaka all over again?