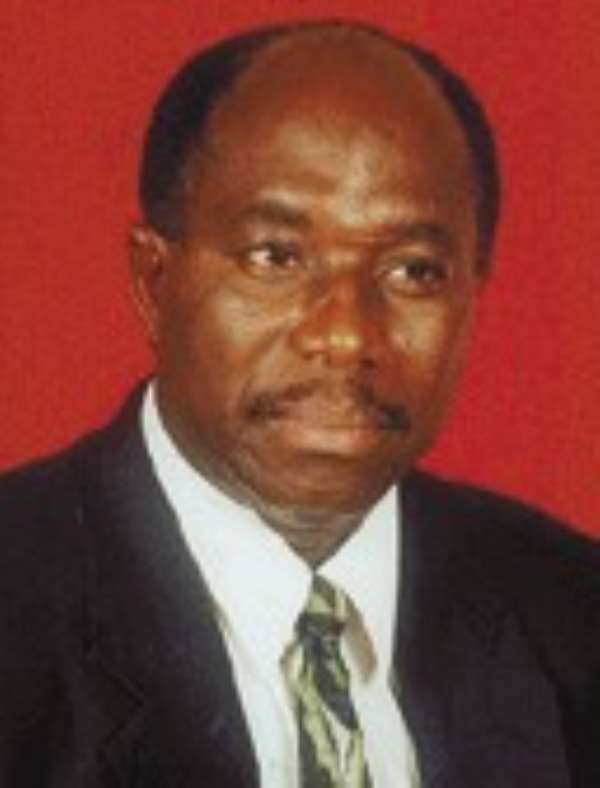 It can only be a source of pride in our emerging democracy that a minister-designate is hauled over hot coals prior to enjoying the trappings of that office. Oh joy, what unbridled joy, to realise that ministers are not rubber-stamped during their vetting after a few winks and nods and maybe a few champagnes too many.
Dr. Richard Anane seems to be doing a lot of squirming these days before his fellow lawmakers who have been designated the job of sifting through the president's ministerial nomination. In an ironic twist that can only be the stuff of pure theatre and fiction, it appears that the good doctor attended a conference on AIDS abroad sometime ago on behalf of the nation as health minister, no less. Whilst there, he got busy between the sheets with a certain lady without the necessary gear, and bingo, months later, he a baby boy was thrust in his face as the evidence of his nicodemous activity. He planted evidence at the 'crime scene'. More worryingly, he failed to take the basic precautions that AIDS campaigners have been hammering on and which his then ministry had been echoing: stick to one partner, and if you can't control your roving eyes, use protection! Simple for a medical doctor to grasp, you might think. Wrong. Now he is not the only one squirming in front of the Appointments Committee. His poor innocent wife, who obviously takes her marriage vows seriously and has forgiven him, is dragged into this, and the Ghanaian media outlets are in a feeding frenzy over Dr. Anane's deep pain.
There are some who insist that this is a private matter and that what a minister does in his private life is very private indeed and has no bearing on the discharge of his public duties. And I have some sympathy with this argument. It is utterly ridiculous to draw every detail of a man's private sex life into the open simply because he is seeking or holds public office. That is a matter for his wife and his God. And I do not accept that if a man strays beyond his marital bed, then the deception of his wife essentially means he is likely to deceive the public. That argument is simply the product of lazy thinking and a frenzied, perhaps voyeuristic, rather infantile public fascination with the sex lives of others. I think the one person who has every right to raise hell is his wife, who he clearly and grievously betrayed. And she says she forgiven him, so why are some still casting stones and rocks at him?
However, where the committee is absolutely right to subject the minister-designate to intense grilling regards the issues surrounding the payments he is alleged to have made to his American mistress as well as his record in office during the previous administration. Let a full and proper investigation proceed on the suggestions regarding the payments, for these are serious indeed. If Dr. Anane is found to have criminally misused public funds for private enjoyments, then let all hell break loose on him, and let the Attorney-General prosecute him, for no public official, including ministers, must be allowed to abuse their office in this manner.
I would suggest that Dr. Anane withdraw from seeking ministerial position. Clearly, his private palaver with his mistress has become a circus, and serious allegations have been made, which could potentially harm the government's standing. Even if parliament clears him on the financial accusations, he will be damaged goods and would have lost all credibility, stumbling along in office, for some will believe there has been a whitewash/cover-up. Surely, the dignified thing to do is to stand aside and fight to clear his name. I could help Dr. Anane with a proposed press release announcing this:
Over the past few days, certain issues have arisen from my nomination process in parliament, causing a great deal of public interest. Among these are certain matters involving my private life. I accept that in the past, I have conducted my private life in a manner that has caused pain and distress to my dear and loyal wife who has so admirably stood by me in what was a very difficult phase of our marriage and also for me personally. Clearly, current developments during the nomination process are further exacerbating the pain and anguish within my family, and I owe them a supreme duty to put this matter to rest.
Further, there have been serious financial allegations against me, suggesting that I made some private payments with public funds during my previous ministerial tenure. I strenuously deny these suggestions. I believe that they are being orchestrated to tarnish my reputation and integrity, and I am prepared to vigorously clear my name on this account in any investigation that may be set up to look into this matter.
I realise that the two issues referred to are adversely affecting the integrity of the government and distracting attention away from the crucial development issues affecting this nation. I have therefore respectfully requested the president to withdraw my nomination as a minister of state to enable me concentrate on clearing my name regarding the allegations of financial impropriety.
I feel very honoured to have had the opportunity to serve this nation in a previous capacity as a minister,. I have no reason to question the integrity of the members of the Appointments Committee in parliament, who I believe are doing their best to ensure and enshrine the concept of accountability in our young democracy. I will continue to serve this country to the best of my ability as a member of parliament, concentrating on championing the cause of the ordinary man and supporting this government. My family and I sincerely appreciate the incredible support that many have accorded us in this difficult time. Thank you, and God bless you all'.
I bet Dr. Anane's standing would shoot up overnight if he did this, and it would do him a lot of good, because that is what honourable men do. The veteran British Labour politician Roy Hattersley summed up a golden political rule thus: 'when you find yourself in a hole, just stop digging.' Pearls of wisdom.
Just pack it in and walk, Doc. And if he won't, will you push him please, Mr. President?
Views expressed by the author(s) do not necessarily reflect those of GhanaHomePage.