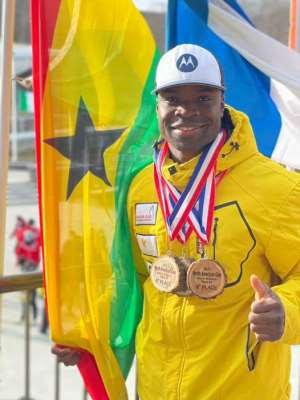 Ghana's first Skeleton Olympian, Akwasi Frimpong missed the podium by 27 seconds in today's International Bobsleigh and Skeleton Federation ( IBSF) North American Cup Skeleton races in Lake Placid, New York.
He earned his best career finishes with two 6th places and a 5th place. Frimpong also jumped from 72nd in the world ranking this week to 62nd.
Frimpong has had a challenging Olympic season with major injuries during the off-season and some material problems.
He never gave up and keeps pushing to qualify for his second Olympics.
According to Frimpong, he underperformed in his first 10 races and that will make his chances to qualify for the Olympics very hard.
But he says this week he proved to himself and the rest of the world that "he's not an African on a sledge anymore, but a skeleton athlete from Africa."
Frimpong needs to be ranked in the top 60 in the world by January 16th, 2021 plus be ranked among the top 7 single nations in the top 60.