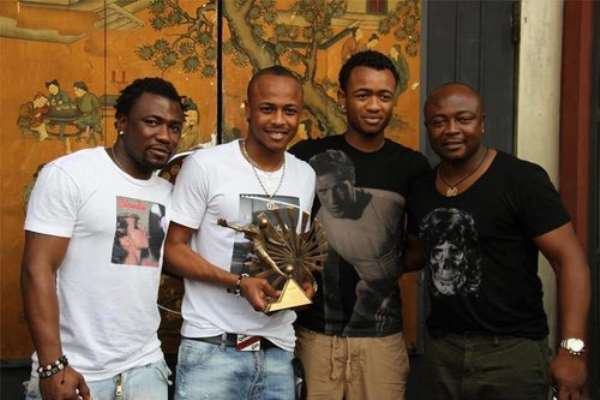 Rahim Ayew [L], Andre Ayew, Jordan Ayew and Abedi Pele Ayew, their father
Striker Jordan Ayew has opened up on how he and his brothers followed the footsteps of their father of becoming footballers.
Jordan, together with Andre and Rahim are all footballers playing in Europe.
The Crystal Palace forward speaking to the Daily Mail said their mother, Maha Ayew was not interested in seeing them grow up to be footballers but had no choice than to follow the footsteps of their father.
Ayew says: 'Dad never put pressure on us to become footballers but we didn't have a choice. Football was always on the TV. From there, you can't do anything else. Even my uncles were footballers. We are a footballing family.
'My mum was going crazy. 'Football this, football that', she used to say. My parents were a bit strict on our school results, especially mum.'
As soon as he and his brothers Andre — now at Swansea City — and Rahim, who plays in Gibraltar, returned from school, they took to the streets of East Legon in search of their daily football fix.
'We would play with friends every night after school, then against the next town on the weekends,' he recalls. 'Those games used to end up in fights but that's where you get your mental strength: playing with older guys. We joined a team and I was playing against guys who were 19 when I was 13.'
The age difference stood Ayew in good stead for the bruisings that were to follow. He says: 'You have to stand up, you can't cry. They say in Ghana, 'In football, there is no age'.
'Those are the things that helped me become the player I am. When I joined the academy in Marseille and went to the first team, I was used to playing with older guys. It was nothing new for me. The contact was ruthless but I wasn't shocked," he added.
Abedi Pele Ayew, the father of Jordan, Andre and Rahim is a national hero and is regarded as the best player of all time.
Pele was a member of Ghana's team that won the 1982 Africa Cup of Nations [Afcon] and captained the national team for many years.
However, Jordan and Andre are currently top players for the national team, the Black Stars with exception of Rahim Ayew.
Andre is currently the captain of the national team.