Samuel Eto'o Is Africa's All Time Best Player - Samuel Inkoom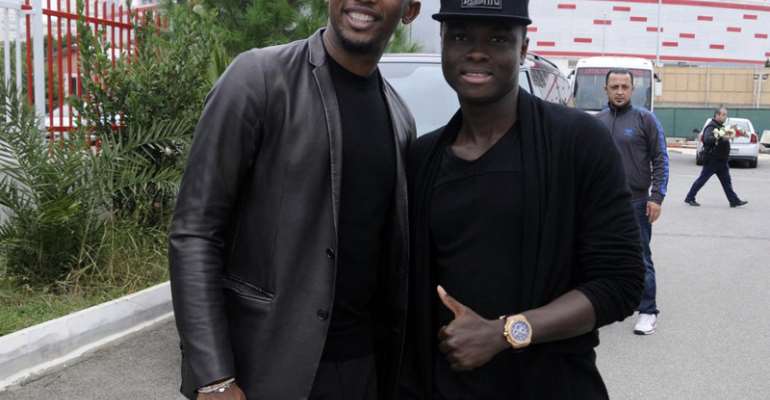 Ghana international, Samuel Inkoom has touted Samuel Eto'o describing him as the greatest African player ever.
The Cameroon legend was a sensational to watch at Barcelona, Inter Milan and at Chelsea.
He won the Champions League with Pep Guardiola and Jose Mourinho respectively.
Eto'o, 39, went ahead to win the African Best Player of the Year award four times.
And according to Inkoom, describing the former Everton forward African great seems to be an understatement.
"For me, he [Eto'o] is great," he told Joy Sports.
"He put Africa on the map. George Weah is there as well. But I will go for Samuel Eto'o [as the greatest ever African player]. Eto'o was amazing."
Inkoom also revealed how crucial Eto'o was in getting him to Turkey, a move that came at a right time he had only played a combined 10 games for D.C United and Boavista respectively.
A few players get the opportunity to share a dressing room with a superstar such as Eto'o and Inkoom counts himself privileged to have played with an African great.
"He's such an amazing guy. I was in Boavista, Portugal at that time and I received a call from [Eto'o] and he said 'hey listen, I want you in my team'.
"I said if you are there and Eto'o calls you that he needs you then you need to know that you have something that is amazing.
"He [Eto'o] spoke to the Antalyaspor and they talked about the personal terms, the transfer fee and everything.
"At the end of the day, it was a great feeling to play with him. He is a living legend and I was so happy to play with him," he added.
Inkoom and Eto'o played together at Antalyaspor in the Turkish SuperLig.