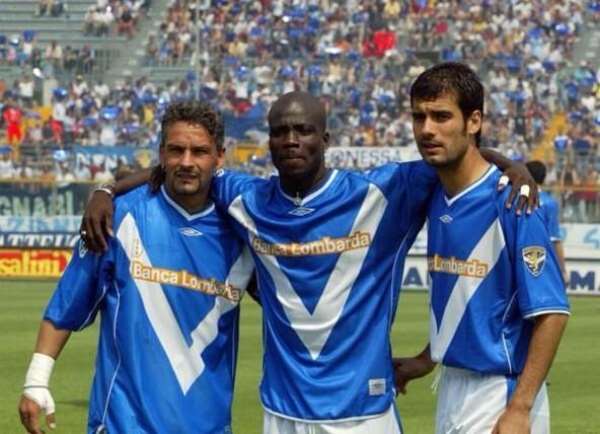 Stephen Appiah with Roberto Bargio and Pep Guardiola
Former Ghana international, Stephen Appiah has admitted that he achieved his magnificent feats with Brescia because Guardiola and Baggio helped him.
Appiah joined Brescia from Parma in the 2002-03 season where he put up a number of magnificent performances for the side.
During his time at Brescia, he played alongside former Ballon d'Or winner Roberto Baggio and current Manchester City coach Pep Guardiola.
He earned his big move to Juventus afterwards and spent two seasons with the Bianconeri.
However, in an interview with Joy Sports, he admitted that his impressive numbers was as a result of playing with the duo.
"I scored 8 goals the 2002-2003 season with Brescia because when you are playing with Guardiola and Baggio, they make things simple for you."
The 39-year-old made 32 appearances for the side in all competitions for Brescia. He spent nine years in Italy before moving to Fenerbahce.