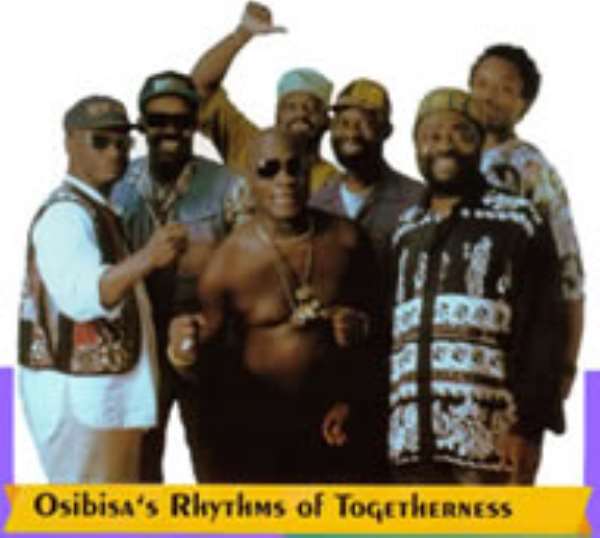 Formed in London in 1969 by three Ghanaian and three Caribbean musicians, Osibisa played a central role in developing an awareness of African music among European and North American audiences in the 70s.
The Ghanaian founder members of Osibisa - Teddy Osei (saxophone), Sol Amarfio (drums) and Mac Tontoh, Teddy's brother (trumpet) - were seasoned members of the Accra highlife scene before they moved to London to launch their attack on the world stage.
Osei and Amaflio had played in the Star Gazers, a top Ghanaian highlife band, before setting up the Comets, who scored a large West African hit with their 1958 single 'Pete Pete'. Tontoh was also a member of the Comets, before joining the Uhuru Dance Band, one of the first outfits to bring elements of jazz into Ghanaian highlife. The other founder-members of Osibisa were Spartacus R, a Grenadian bass player, Robert Bailey (b. Trinidad; keyboards) and Wendel Richardson (b. Antigua; lead guitar), & Lasisi Amao (b. Nigeria; percussionist & tenor sax).
Teddy Osei
Teddy Osei moved to London in 1962 where he was eventually given a scholarship by the Ghanaian government to study music. In 1964, he formed Cat's Paw, an early blueprint for Osibisa that blended highlife, rock and soul. In 1969, feeling the need for more accomplished African musicians within the line-up, he persuaded Tontoh and Amarfio to join him in London and Osibisa was born.
Osbisa in the 90'sThe venture proved to be an immediate success, with the single 'Music for Gong Gong' a substantial hit in 1970 (three other singles later made the British Top 10: 'Sunshine Day', 'Dance the Body Music' and 'Coffee Song'). Osibisa's debut album displayed music whose rock references, especially in the guitar solos, combined with vibrant African cross rhythms. The band's true power only fully came across on stage, when African village scenarios and a mastery of rhythm and melody summoned up energy and spirit. Woyaya reached number 11 in the UK and Art Garfunkel later covered its title track.
During the late 70s they spent much of their time on world tours, playing to particularly large audiences in Japan, India, Australia and Africa. They were joined at this time, by the Ghanaian percussionist Darko Adams 'Potato' (b. 1932, d. 1 January 1995, Accra, Ghana).
In 1980 Osibisa performed a special concert at the Zimbabwean independence celebrations. By this time, however, Osibisa's star was in decline, in commercial terms, in Europe and America. The band continued touring and releasing records, but to steadily diminishing audiences. Business problems followed. After initially signing to MCA Records, Osibisa had changed labels several times, ending with Bronze Records. The moves reflected their growing frustration with British business, as each label in turn tried to persuade them to adapt their music to the disco style. Osibisa were prepared to make some concessions but only up to a point.
Teddy Osei: Still blowin', still delivering the goods!In the mid-80s, the group directed their attention to the state of the music business in Ghana, planning a studio and theatre complex, and to helping in the promotion of younger highlife artists. In 1984, Tontoh formed a London band to back three visiting Ghanaian musicians - A.B. Crentsil, Eric Agyeman and Thomas Frempong. An album, Highlife Stars, followed on Osibisa's own Flying Elephant label.
Osibisa occasionally staged reunion concerts before Teddy Osei put together a new line-up for 1996's' Monsore'. Sequel Records reissued much of their past catalogue in 1999, proving how good the band were and how amazingly fresh their music still sounds today.
Contrary to popular belief, this legendary band are still in existence, still touring and still recording. Their latest release AKA KAKRA is an absolute triumph mixing their familiar rock tinged cross-rhythms with some great improvised jazz leanings.