Media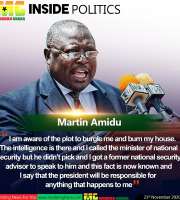 Relevant Links
Media Links
Sexual orientation A guy sits down at the bar and orders 5 shorts of tequila and downs them straight.The bartender asks, "Did you have a long day?"
The man replies that he just found out that his brother was gay and leaves.
The next day the same guy comes in and orders ten shots."I just found out my son is gay too ,"he says.
The third night the man comes in and orders 25 shots. Stunning, the bartender asks, "Doesn't anyone in your family likes women?"
The man replies, "Well, my wife does!"


Author: Han T
---
---
Top Stories
4 hours ago

Ministerial approval: NDC MPs outsmart Asiedu Nketia who wanted them to take pho...
4 hours ago

US Vice President Kamala Harris arrives in Ghana today
5 hours ago

'I didn't say I'm the messiah, I don't have those spiritual connotations; but I'...
5 hours ago

'Arrest any youth caught eating in public' — Kano State's Hisbah Board tells rel...
5 hours ago

Minority fiasco: Will NDC ever deliver for Ghanaians — Franklin Cudjoe quizzes o...
5 hours ago

Koku Anyidoho defends NDC MPs who voted to approve ministerial nominees
6 hours ago

Kenya police chief bans new opposition protests
6 hours ago

Chad's president signs pardon for 380 rebels sentenced to life in prison
6 hours ago

Replace worn out cylinder hoses, rubber seals regularly — NPA urges public