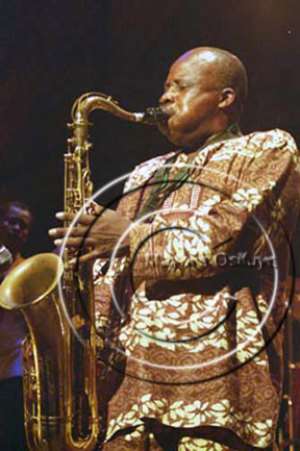 Fondly called OJ by his friends and admirers, Orlando Julius Aremu Olusanya Ekemode, is, indeed, the last of Nigeria's titans in the highlife music genre ... which he has modernised to Afro-soul. An indigene of Ijebujesha in Osun State, Ekemode was born in Ikole-Ekiti to a family of merchants. His father first traded in Abeokuta before moving to Ikole-Ekiti, where he was given a piece of land by the traditional ruler of the town and encouraged to settle there.
Orlando is the fourth son in the family and the younger brother of Professor Gabriel Ekemode of the University of Ife, Ile-Ife (now Obafemi Awolowo University). His journey into music began as a pupil of St. Peter's Anglican School, Ikole-Ekiti . As a lad, he played the drums and flute for the school band, as well as for a local band known as Mambo Dance Band. After finishing school in 1957 and upon the death of his father the same year, he left Ikole-Ekiti for Ibadan (the then capital of the Western region) in search of a job. While in the city, he worked as a bakery assistant and at the same time, tried to keep alive his dream of pursing a career in music by stringing along with a few musicians who desired his services as a drummer and flutist.
He went to play at a time under J. Oyeshiku and Cotey Necoy of Ghana and Julius Araba, but his real wish was to become a saxophonist. And so, in keeping with the tradition of the time, he took up apprenticeship with Ademola Haastrup (aka. Jazz Romero) band and one of the brightest horns men around then. Orlando landed a job with Romero's band (Action Group) playing trap drums.
To a large extent, Orlando Julius owes his success as a musician to the persisting influence of his experience in Ibadan. He cherishes most of those early days with the Action Group Band. He was not only impressed with the band's organization but reckoned it to be the best equipped (musical instrument) band in the country and it provided a great opportunity for up-coming musicians to practise their skills and become professionals. Hazeez Balogun met him and he spoke about his whistle-stop trips around the world.
You are not often seen in Lagos. What happened?
I am based in Osogbo, Osun state
What type of music do you play?
I started with highlife, and then modernized it into Afro beat in the early 60s. I also play Afro soul and Super Afro soul.
How did you come about playing music?
I started my music career from the elementary school in Ikole-Ekiti where I was born. My father's sudden death in the beginning of my high school informed my movement to Ibadan in the 50s where I started to learn music. During that period, Chief Obafemi Awolowo was the premier of Western Region and due to unavailability of a school of music in the region he caused his party, Action Group to establish one at the party's secretariat at Oke-Ado, Ibadan where I and some other big names in the music industry were given the opportunity to learn music. In 1960, I was able to record my first single, titled, "Igbehin Adara" through the Nigerian Broadcasting Corporation (NBC). Thereafter, I went to Ilesha where I joined the late Dr I.K. Dairo's band. I was leading the outfit, I.K's Dance Band. In those days, I was able to arrange some songs for the band, which included Salome, Mo F'ara Mi Fun E and many others. Moving up, I later established my 10-piece band, Orlando Julius & His Modern Aces and we performed regularly at Independence Hotel, Oke-Bola, Ibadan. With the band, I was able to release my first 45 single, titled: Jaguar Nana and it was released by Phillips Records. Lots of singles and extended albums were also recorded by Phillips Records. Thereafter, I traveled to Western Germany through Polydor Records, on recording deals. After the assignment in Germany, I returned to Nigeria to meet another assignment waiting for me and I made a quick visit to the United States of America. It was after I returned to Nigeria that I met Late James Brown whose band performed with my band at Paradise Hotel, Ibadan.
When did you move finally to the U.S?
In 1974, I finally moved to the U.S where I was able to produce an album with Hughes Masekela, titled: The Boy is Doing It. My song, Asiko Lo Laye was a hit in the album. After that, I did another album with Lamont Dozier during FESTAC '77 where I co-wrote an album with the American musicians. My track, Ka Ma Ranti Isedale Baba Awa in the album was also a hit, and it won a Grammy Award.
Who were you doing music with in Ibadan?
You see, Ibadan was then Mecca of entertainment in Nigeria, and the big names in the music, and other spheres of life emerged. Ibadan is where everything that is first in Africa started. Those star musicians we were together then included Eddy Okonta, Bola Johnson, St. Augustine, Chris Ajilo, Tunde Nightingale, Ojoge Daniel, Dele Ojo, Eric Ekaeze and a host of them I could not remember again. We all made the scene rollicking.
How would you compare the past and present Nigerian entertainment industry?
Honestly, the standard of entertainment has dropped astronomically, compared to what obtained in the past. Many highlife-cum-Afro beat stars have passed to the great beyond. The military regime in the country then also affected the entertainment scene. Many clubs and hotels had to close down in the wake of arbitrary curfews imposed. Many highlife musicians also moved to Army Band and this added to the dearth of highlife and Afro beat music. Fela Anikulapo-Kuti did his best to sustain the tempo while it lasted. But the scene is no longer entertaining again.
It seems the present day Hip-Hop musicians have redeemed the scene.
Yeah, it is true, but they are not original. Their rhythm is through machine. That's why people overseas did not accept the Naija hip-hop. People up there want something different from what they have been listening to in their countries. What Oyinbo people want to hear is African percussion that sounds different from their own musical instruments. That's why the late Michael Jackson remained the original musician till his death. All his albums were recorded through live band, and anywhere he performed it was live band on the stage throughout. By and large, I want to commend these boys, coming from the background of singing like American or British people and now writing songs in their mother tongue such as Yoruba, Igbo, Hausa etc. It is a plus to these guys, I give it to them. But, I want them to start having their own live bands with African rhythm. It is only late Fela Anikulapo-Kuti, King Sunny Ade, Sikiru Ayinde Barrister and few others that are watched by Oyinbo people whenever they come to the United States or Europe. Their rhythm is thoroughly real African instruments that Oyinbo want to hear. You see, I have lived in every part of the U.S, and I have taught many Africans and Americans how to play African instruments. Today in America or Europe, you will see many Afro beat and Highlife bands that feature purely African rhythm and they have a lot of audience.
Generally, ladies mill around musicians. How do you handle your female fans?
Yeah, it is true girls always stay around where the music is sweet. But, I want to say this without being immodest that I was much more involved in my music then. Not that I shunned them; I'm friends with them, but not in any relationship. It is true that if you play good music, women will flock around you. I could remember those days, I used to play lots of love songs and students attended my shows, but I never took them as wives or girlfriends. I love them and they love my music.
If you were not a musician, what would you have been?
Well, other things I loved to do when I was young included playing football. I was also a good artist, doing paintings like Dr Victor Uwaifo. Having traveled all over the world, I've also learnt many trades. I'm a percussionist, singer, instrumentalist, producer, song writer etc. But, back to your question, Glory be to God for what I am doing today, and I have no regrets being a musician.
What do you do when you are not on stage?
I'm on stage 24-7 by listening to music, producing music, teaching music, talking music and dreaming music when I'm asleep. That has been part of my relaxation. I also have some time with my wife, though, I have a very tight schedule, but I still try to stay with her.
Recently Prof. Dora Akinyuli came with the idea of rebranding Nigeria, what is your view on this?
Well, I'm glad to hear that. It's a good idea and a laudable one. But, the rebranding as it affects me has to do with our ways of life, and music has a major role to play at this juncture. Today in the United States of America, the government there makes a lot of money through music and entertainment in general than other sources. Having traveled all over the United States of America, promoting African Arts and Culture, I think I can use my experience in this area (if I'm co-opted), to give tips on how to sell Nigeria to the Western World. Nigeria has lot of artistes who have travelled all over Europe and the U.S who can use their experience to change people's negative perceptions about Nigeria, and they could attract investors to the country. I think Prof. Akinyuli should extend her invitation to these people for her project to achieve meaningful result.
Recently you were sighted on a couple of television stations presenting programme. What is it all about?
The programme is all about live music, I mean highlife and Afro beat. This music starts from Nigeria to Ghana and to the West Coast of Africa. Honestly, this type of music, highlife, is missing today on our entertainment scene. Though, I'm not condemning what our youths in the industry are doing today, but the fact remains that we should encourage live music in our entertainment . This programme, Afro Hi with Orlando Julius is aimed at bringing back the good old days of Highlife and Afro beat music. I'm happy that after each edition of the programme, we receive no fewer than 250 telephone calls and text messages from both young and old people. It is encouraging that the programme brings the past to the present for this generation to plan for their future. The programme features activities of Victor Uwaifo, I.K Dairo, Orlando Julius, some Ghanaian highlife musicians and Sholagbade who's coming up. We started from NTA Osogbo on every Wednesday by 1:05 p.m,. Galaxy Ibadan and Lagos simultaneously, every Thursday by 3: p.m., and now Osun State Broadcasting Corporation Osogbo wants us to start featuring on the station every Monday by 12 noon and Wednesday at 9:30 p.m. respectively. My wife, Latoya Aduke is the producer.
As a veteran musician who has stayed in the US for over three decades, how would you describe the death of Michael Jackson?
Oh, that's a great loss to the entertainment industry worldwide. I was privileged to know his parents, Joseph and Katherine. They are both nice people and good parents who made sure their children got good education. My contact with the family was some years back when I and Asante were called to train Randy to play African drums such as Conga. By then, Michael was very young, he always came around when we were in session. He was then featuring in Sesame Street, a popular TV programme in the US. His death is not just a loss to his family, but to the whole world. He was a very great musician and a talent to behold. He was very original in his works. All his works were recorded live; no drum machine, no sequencing. Michael had a recording studio where every of his works was recorded live. To show our love to his family at this time of their grief, and to appreciate Michael's innovation into the music world, we dedicated an edition of Afro Hi with Orlando Julius to Michael before his burial.
How would you describe your life as a musician?
My life as a musician is very interesting and memorable. You know, when I look back to all the songs that I wrote through the Grace of God, including gospel, my oldies are there to testify. I feel grateful to God and my fans who appreciated my talent. I thank God for the talent he gave me in music and His guidance for being able to use it well. A lot of people now demand for my oldies, and for this reason we are trying to compile some of my oldies into compact disc. Honestly, I thank God for making people happy through my music.
How many wives do you have?
Sorry, I don't have wives, but I have one wife and she is Latoya Aduke Ekemode, an American-born amazon. Before I married her, I'd had children from other women who were not ready to marry me as a musician. Glory to God, I have four children, three boys and a girl.
What would you say about your wife Latoya?
Well, firstly, I'm happy and grateful to God that I met Latoya through Ambrose Campbell in Los Angeles, USA, when I needed a good singer and dancer. She has been with me since early 90s as a good companion, lover, daughter and a mother to behold. Candidly, she's been very supportive.
Are you finally back in Nigeria?
Well, I can't say I'm finally back in Nigeria, because I still perform, and anytime I have a show up there I will go and return to Nigeria. So, if Ambrose Campbell could play music till over 80 years, and seeing Fatai Rolling Dollars, my friend who still performs, I will continue to do what I like doing best. We should continue to do whatever good thing that makes us happy in life, it is the secret of longetivity.
Who is Orlando Aremu Julius Ekemode?
Orlando Julius Aremu Ekemode was born in Ikole-Ekiti, Ekiti State in 1943. I had both primary and post-primary education in Ikole-Ekiti where I learnt how to play drums. My mother also influenced my interest in music through her weaving machine. Anytime she wove at night she would be singing. Apart from Sakara drum which I made through rubber, I always sat beside my mother at night and sang along with her. My mother also had a woman band group that got their music through local pot drums. That's how I learnt how to play the drums and sing at the same time.