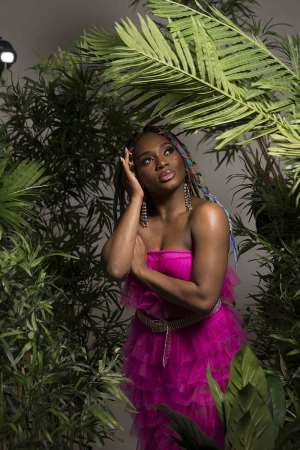 UK-based Nigerian creative dance director and musician, Ezinne Asinugo is breaking new career boundaries by teaming up with pan-African Media and PR agency- Estol Africa
The talented dancer, choreographer and artiste plastered this new direction when she recently signed a PR and management agreement with Estol Africa in UK.
Having established herself on the continent as one of the most sought-after Dancer and Choreographer, Zinny X now forges a new alliance with the Multi-faceted creative powerhouse Estol Africa to help take her brand as a musician and also a creative dancer to a whole new level of success and accomplishment on the continent, and globally.
Welcoming Zinny x to the family, Esther 'cutekimani' Tosin Adekeye, Managing Partner Estol Africa, reiterated that one of the goals of the company is to nurture African talents to becoming global brands.
Speaking on the management deal, Managing Partner, Tosin Adekeye, expressed her confidence in the spark Zinny X is bringing into the music scene.
"Ezinne is a bundle of raw talent that would become phenomenal with proper direction. We are confident that this move, along with many others would put her brand further in the center on the world's radar ".
Zinny X on the other hand expresses her joy; "I have had personal encounters with the talents that have been and are still being represented by Estol Africa and I can't wait for us to start to break boundaries together. Dancing is an art, music is life. Combine that together and you have magic. I am that magic so keep your eyes locked on me"
Estol Africa and its Parent company Estol Props Media have become a household name in Media Relations, Talent Management, and Influencer Marketing with footprints in Nigeria, Kenya, Ghana and expanding with strong international affiliations across Africa and Europe.
Some of the talents that Estol Africa has represented include Olamide, Ruth Kadiri, Harrysong, Olu Maintain, Bimbo Ademoye, Chy Nwakanma and the newest addition, Zinny X.
You can connect with her on Social Media: @zinnyxgram
ABOUT ZINNY X
Ezinne Asinugo (Zinny X) is one of the leading faces of the beautiful dance trio CEO Dancers, Semi-finalist from Britain's Got Talent 2013, who have graced the World Music Awards, Global Citizen DC and BET Experience stages. She has worked with notable artists like Rihanna, Drake, Tiwa Savage, Davido, Awilo Logomba, D'banj and a host of others.
She was the lead choreographer at the 2019 Afronation Festival in Portugal, where she also performed her first single "Instruction- Wosa!"
Ezinne and her CEO dance mates are the first Afropop dancers to grace the international stages and have headlined their own shows in the UK, Europe, Africa, the US and Canada.
Ezinne has had the honor of performing for millions on Britain's Got Talent, The Brit Awards, MOBO Awards, World Music Awards and BET Experience where she has become known for her versatile and energetic dance styles, clean and sharp execution, and her creative movement.
Ezinne has maintained a focus in the art of dance and choreography and is currently the director of 'Zinarts Productions' focused on creating incredible dance productions worldwide